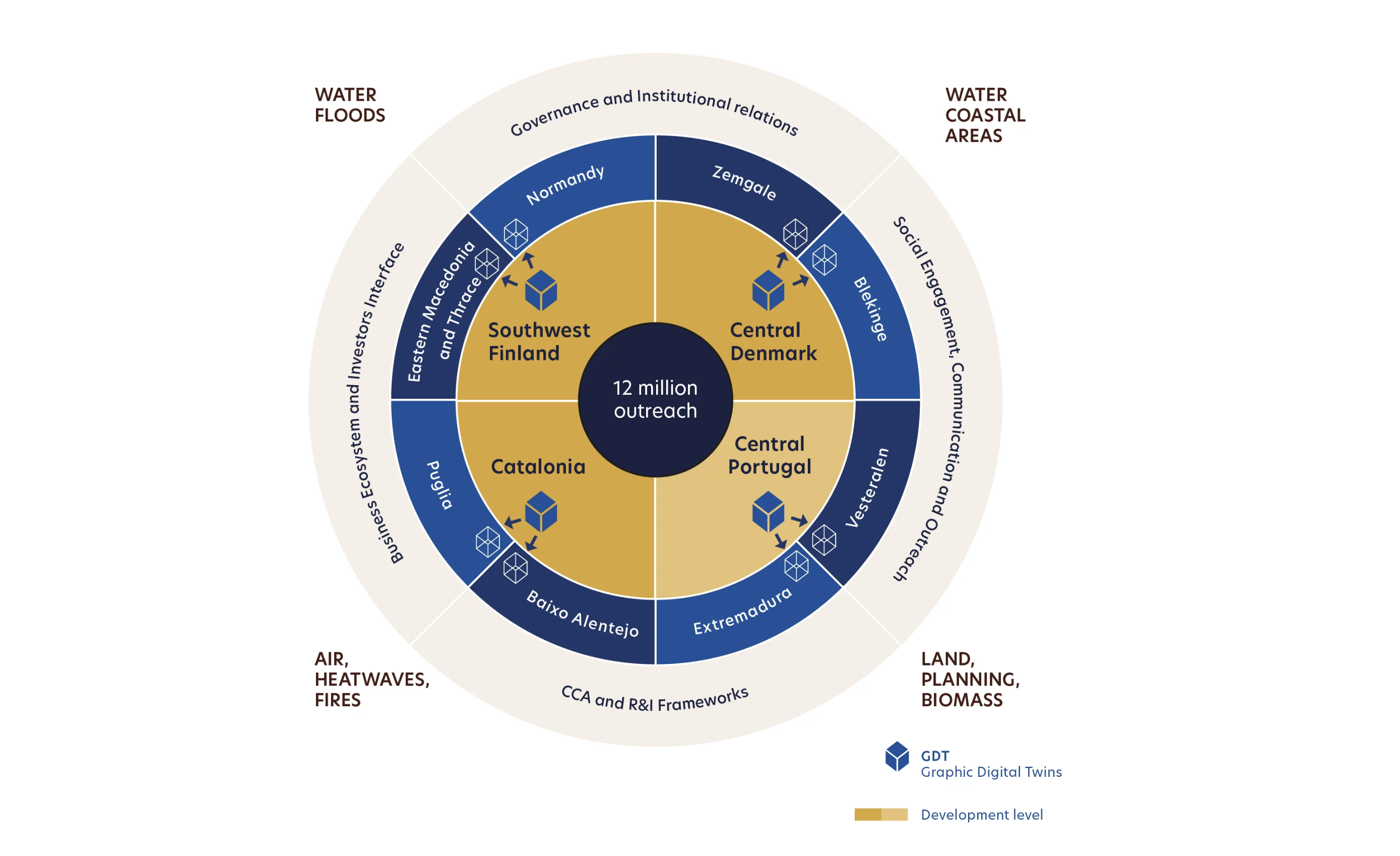 RESIST – Regions for climate change resilience through Innovation, Science and Technology | 2023-2027
RESIST is a five-year project that has emerged from the need to make regions more resilient to climate change. The project will adopt a new practical framework in which climate adaptation pathways will be tested in four EU regions with different socioeconomic profiles: Southwest Finland, Central Denmark, Catalonia and Central Portugal.
Each region will test adaptation solutions to five key climate challenges: floods, droughts, heatwaves, wildfires, and soil erosion, and will bring together civil society, business, policymakers and the research community to work towards its future resilience.
Know-how and adaptation pathways will be transferred from the four demonstrator regions to eight twinned regions through mutual-learning activities and immersive digital twins.
Project info
BTH project leader: Professor Marco Bertoni
Time span: 20230101 – 20271231
Funding: €25M (EU HORIZON)
Partners:
BTH
SINTEF AS (NO), INOVA+ – INNOVATION SERVICES, SA (PT), FONDATION EUROPEENNE DE LA SCIENCE (FR), ADELPHI RESEARCH GEMEINNUTZIGE GMBH (DE), AugmentCity As (NO), KATHOLIEKE UNIVERSITEIT LEUVEN (BE), ZENTRUM FUR SOZIALE INNOVATION GMBH (AT), EUROPEAN REGIONS RESEARCH AND INNOVATION BE NETWORK (ASBL), REVOLVE (ES), STARTUP EUROPE REGIONS NETWORK (BE), FASTTRACK VC GENERAL PARTNER LLP (UK), VARSINAIS-SUOMEN LIITTO (FI), CITY OF TURKU (FI), TURUN AMMATTIKORKEAKOULU OY (FI), TURUN YLIOPISTO (FI), LUONNONVARAKESKUS (FI), PERIFEREIA ANATOLIKIS MAKEDONIAS KAI THRAKIS (EL), DIMOKRITIO PANEPISTIMIO THRAKIS (EL), ENORA INNOVATION ETAIREIA PSIFIAKON (EL), REGION NORMANDIE (FR), CENTRE D ETUDES ET D EXPERTISE SUR LES RISQUES L (FR), OFFICE FRANCAIS DE LA BIODIVERSITE (FR), REGION MIDTJYLLAND (DK), AARHUS UNIVERSITET (DK), NATURSTYRELSEN (DK), VIA UNIVERSITY COLLEGE (DK), NIRAS AS (DK), BLEKINGE LÄNS LANDSTING/REGION BLEKINGE (SE), ZEMGALES PLANOSANAS REGIONS (LV), Departament d'Interior – Generalitat de Catalunya (ES), UNIVERSITAT POLITECNICA DE CATALUNYA (ES), FUNDACIO PER A LA UNIVERSITAT OBERTA DE ES CATALUNYA (ES), Hydrometeorological Innovative Solutions (ES), AJUNTAMENT DE TERRASSA (ES), JUNTAMENT DE BLANES (ES), REGIONE PUGLIA – DIPARTIMENTO TURISMO, ECONOMIA IT DELLA CULTURA, VALORIZZAZIONE TERRITORIALE , TECNOPOLIS PARCO SCIENTIFICO E TECNOLOGICO (IT), Comunidade Intermunicipal do Baixo Alentejo (PT), ITECONS INSTITUTO DE INVESTIGACAO E (PT), COMISSAO DE COORDENACAO E DESENVOLVIMENTO (PT), COMUNIDADE INTERMUNICIPAL DA REGIAO DE COIMBRA (PT), Comunidade Intermunicipal do Médio Tejo (PT), ASSOCIACAO BLC3-CAMPUS DE TECNOLOGIA E INOVACAO (PT), FORESTWISE ASSOCIACAO PARA O LABORATORIO COLABORATIVO PARA A GESTAO INTEGRADA DA FLORESTA E DO FOGO (PT), INSTITUTO POLITÉCNICO DE PORTALEGRE (PT), Gobierno de Extremadura (ES), FUNDACION FUNDECYT – PARQUE CIENTIFICO Y ES TECNOLOGICO DE EXTREMADURA, UNIVERSIDAD DE EXTREMADURA (ES), Vesterålen regionråd (NO), Lofotr Næringsdrift AS (NO), Andfjord Salmon AS (NO), MédioTejo21- Agência Regional de Energia e Ambiente da região do Médio Tejo e Pinhal Interior Sul (PT), ASSOCIACAO PARA UM CENTRO DE ESTUDOS EM DESENVOLVIMENTO SUSTENTAVEL (PT), Association pour la cooperation culturelle et economie numerique avec le sud de l Europe (FR), ODESKIY NACIONALNIY UNIVERSITET IMENI I.I. UA MECHNIKOVA.
Related links
Tagged: andreas larsson, carl toller, Digital Twin, eu, graphical digital twin, horizon, Marco Bertoni, mdd, PSS, resist, SDD, tobias larsson