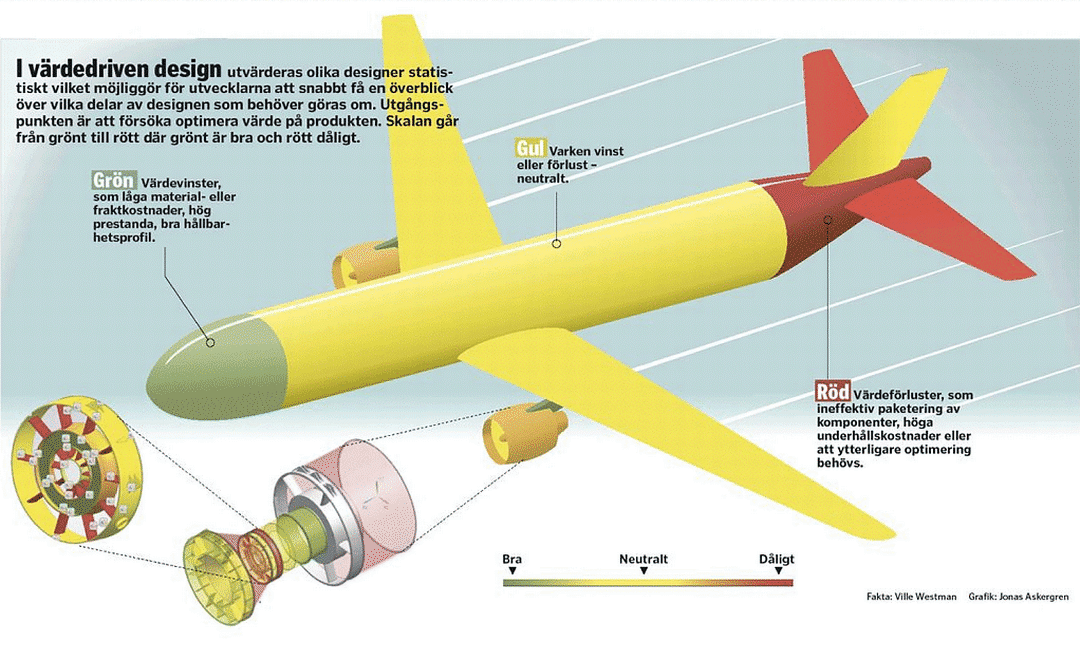 From rocket science to everyday use: how BTH is transforming Value Driven Design research
Extended product warranties up to 10 years, leasing or pay-per-use schemes are just few examples of how manufacturing companies are shifting their focus from selling products to offering "solutions" (functional sales, product-service systems etc.), combining products and services. The opportunity to maximize customer value is a main reason for this, still great challenges remain when "value" is measured and communicated while developing these solutions.
The European aerospace industry is nowadays at the forefront of this research on "Value Driven Design", and the European FP7 CRESCENDO project stands out as one of the main hubs for the development of "value models" to support design decision making. Here, Marco Bertoni, Alessandro Bertoni and Christian Johansson have been main contributors to the improvement of value-based decision-making models. A research initiated by Professors Tobias Larsson (then at Luleå University of Technology) and Ola Isaksson (previously at LTU, and now at Chalmers) during the VIVACE EU FP6 programme.
See Value Driven Design paper for more details on the initial approach.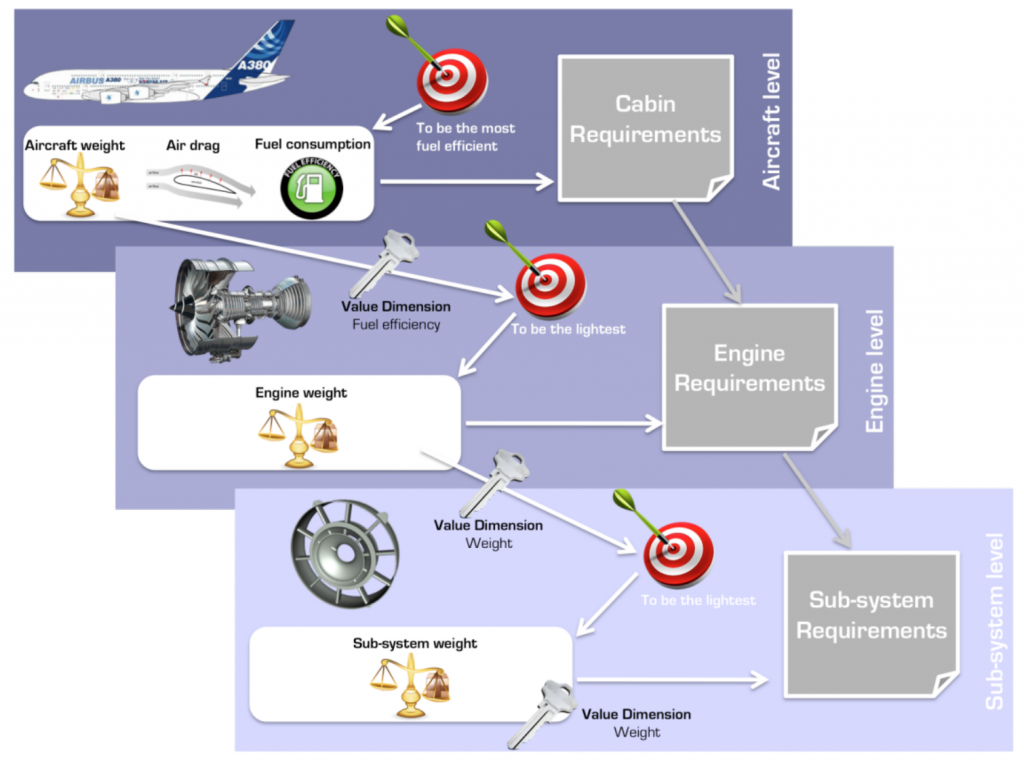 In front of many possible solutions, engineers must identify the most value adding ones. The EVOKE tool, a result of both the CRESCENDO and VINNOVA VITUM research work, does just that:
it (EVOKE) systematically guides engineers in assessing design options (such as different aero-engine anti-ice splitter configurations), to spotlight the most valuable one to be later detailed.
The tool also recognizes that the input data are uncertain and uses the concept of Knowledge Maturity to give a feedback to the engineering team on how much the assessment can be trusted.
See EVOKE papers (#1 & #2) for more information.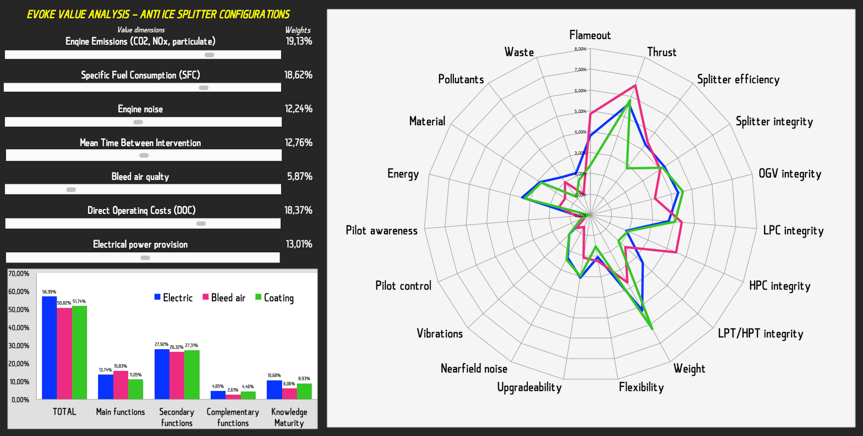 See Knowledge Maturity paper for more info.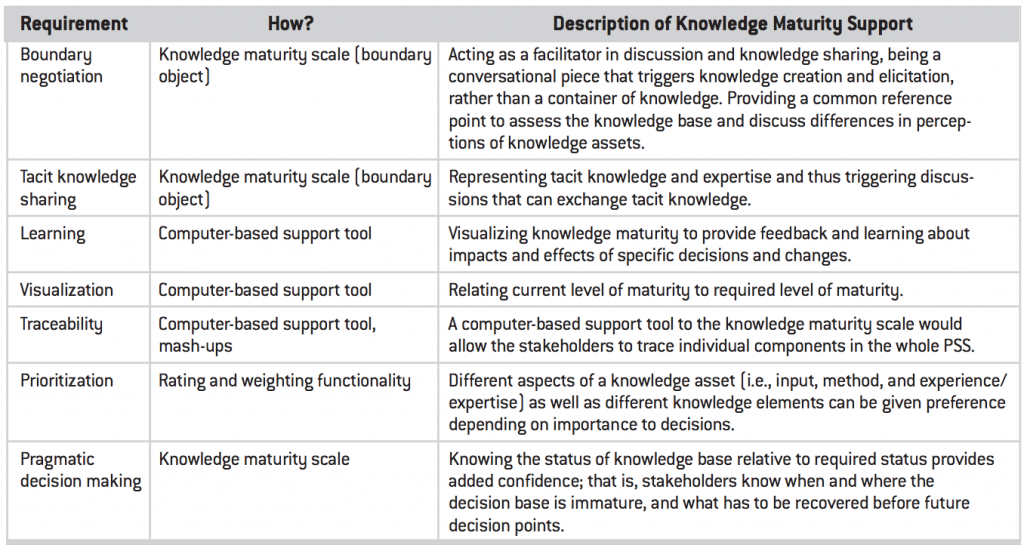 Value model results are linked to the geometry and requirements of a product by the use of color coding 3D models in the Computer Aided Design environment. The approach has been prototyped in collaboration with SIEMENS PLM systems and tested in lab.
See color coding paper for more info.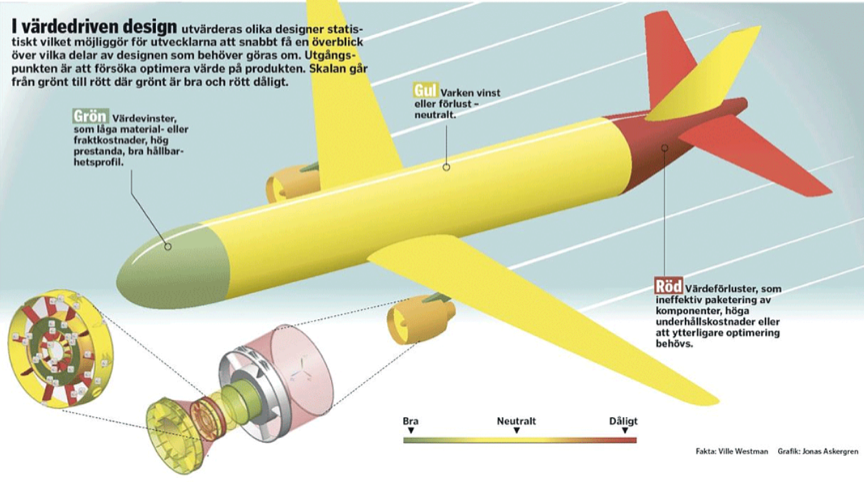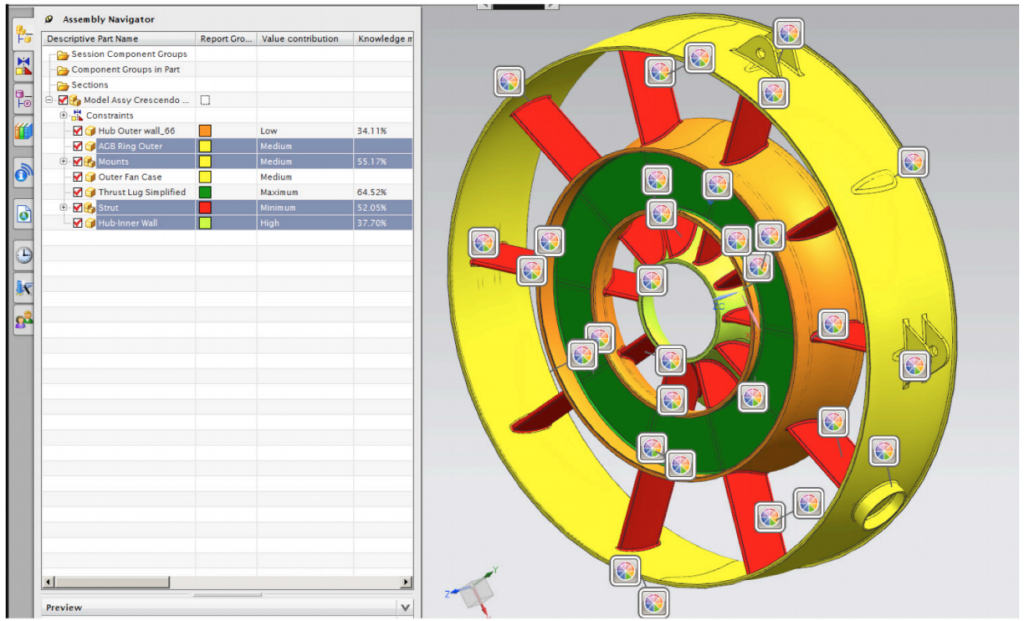 There is more than aerospace though. In the construction equipment sector value models are currently developed in collaboration with Atlas Copco and Volvo Construction Equipment within the Model Driven Development Decision Support (MD3S) research profile and KKS STOSIP project at BTH.
A major challenge here is to predict the performance of alternative configurations of a machine when operated at the site. Johan Wall and Massimo Panarotto are currently tackling this challenge by developing a chain simulation models that determines the Total Cost of Ownership of alternative machine features (as pictured below).
Data mining techniques are also explored to collect live data from machines and using them to populate the decision making models, achieving "data driven design". Another challenge is also to include sustainability as "value dimension" in the decision. The proposed models decompose and clarify sustainability implications in a way that it is possible to compare them against performance-related capabilities already during preliminary design.
See value models paper.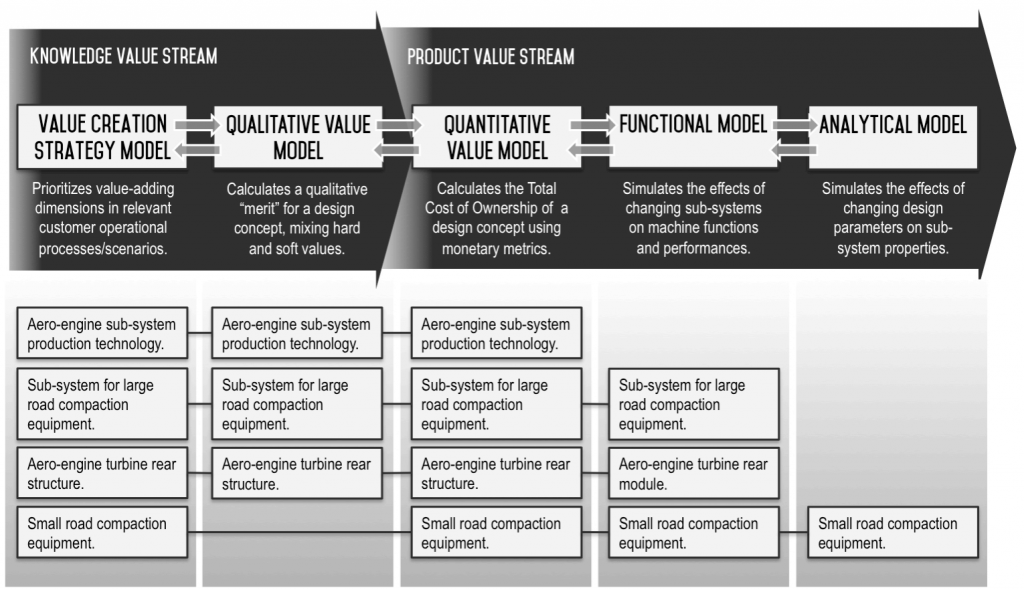 Readings
Projects where this research has evolved
Contacts