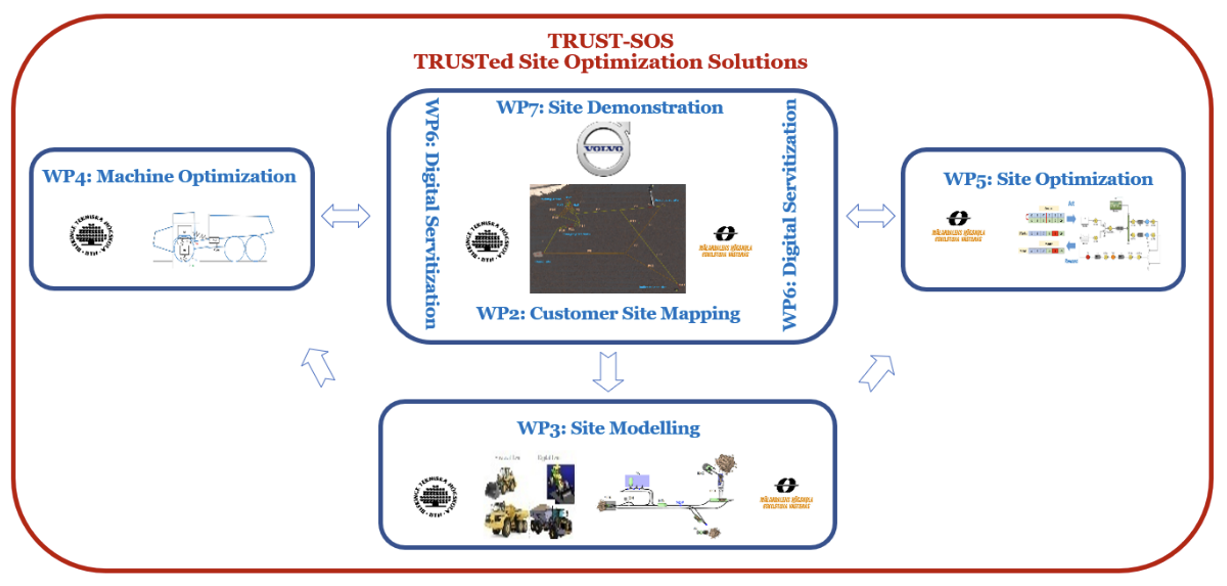 TRUST-SOS – TRUSTed – Site Optimisation Solutions
In the project TRUST–SOS, we are developing digitalized services to increase the level of trusted decision making to optimise overall site systems in off-road transport applications. Today, off-road sites and fleet operations involve a high degree of experience-based decision making to create the optimal usage of equipment and resources at the site and to reduce inefficiencies. Several stakeholders in the value chain, rely today on a few skilled persons for decision-making of these complex and dynamic sites and experienced-based understanding of the impact on different trade-offs. Further, several different systems need to be combined in one platform and the integration of different modules raises the issues of interoperability and applicability. Hence, there is a need to overcome the existing system inefficiencies and build a more reliable and trusted decision support system to reduce inefficiencies and manage complexity in the value chain in off-road applications.
Building a modular and model-based decision support system will therefore create many opportunities for digitalized services for next-generation site optimised systems. TRUST–SOS combines site modelling, machine and site simulation and optimisation to advance Swedish academia and industry by creating digitalized services in a non-proprietary system for the off-road transport application. By developing data-driven models for real-time simulation and optimisation of customer site operations, combined with advanced data analytics, we move from the current experience-based process to a model-based process that will enable us to deliver customer value in terms of services and trusted decision support. Developed models will be tested in a final demonstration in a customer site operation.
The project consortium consists of three partners, which are Volvo Construction Equipment (Volvo CE), Blekinge Institute of Technology (BTH) and Mälardalen University (MDH). Volvo CE acts as the project coordinator. This project offers a complete value chain perspective of business models and servitization as Volvo CE provides competence in the construction site industry, construction machines, and infrastructure for real tests, BTH provides competence in modelling and simulation at the machine level, and MDH provides simulation and optimisation expertise at the site level in addition to digital servitization expertise. This consortium will allow the designing and testing of new models and tools for optimizing the construction site operations in real time. It will further contribute to industrial impact by developing digitalized services but also strengthening our universities by bringing 2 PhD students to licentiate degree. Furthermore, the results will be communicated by a demo paper, 4 technical reports, 6 academic journal papers and 8 conference papers.
The project is planned to start in November 2021 and to be finalised in June 2024 covering a total budget of 18,29 MSEK. The budget applied from FFI is 8,96 MSEK.
BTH project leader: Professor Tobias Larsson
Time span: 20211101 – 20240630
Funding: 18.29 MSEK (8.96 MSEK VINNOVA FFI)
Partners:
BTH
Mälardalen University
Volvo Construction Equipment
Related links