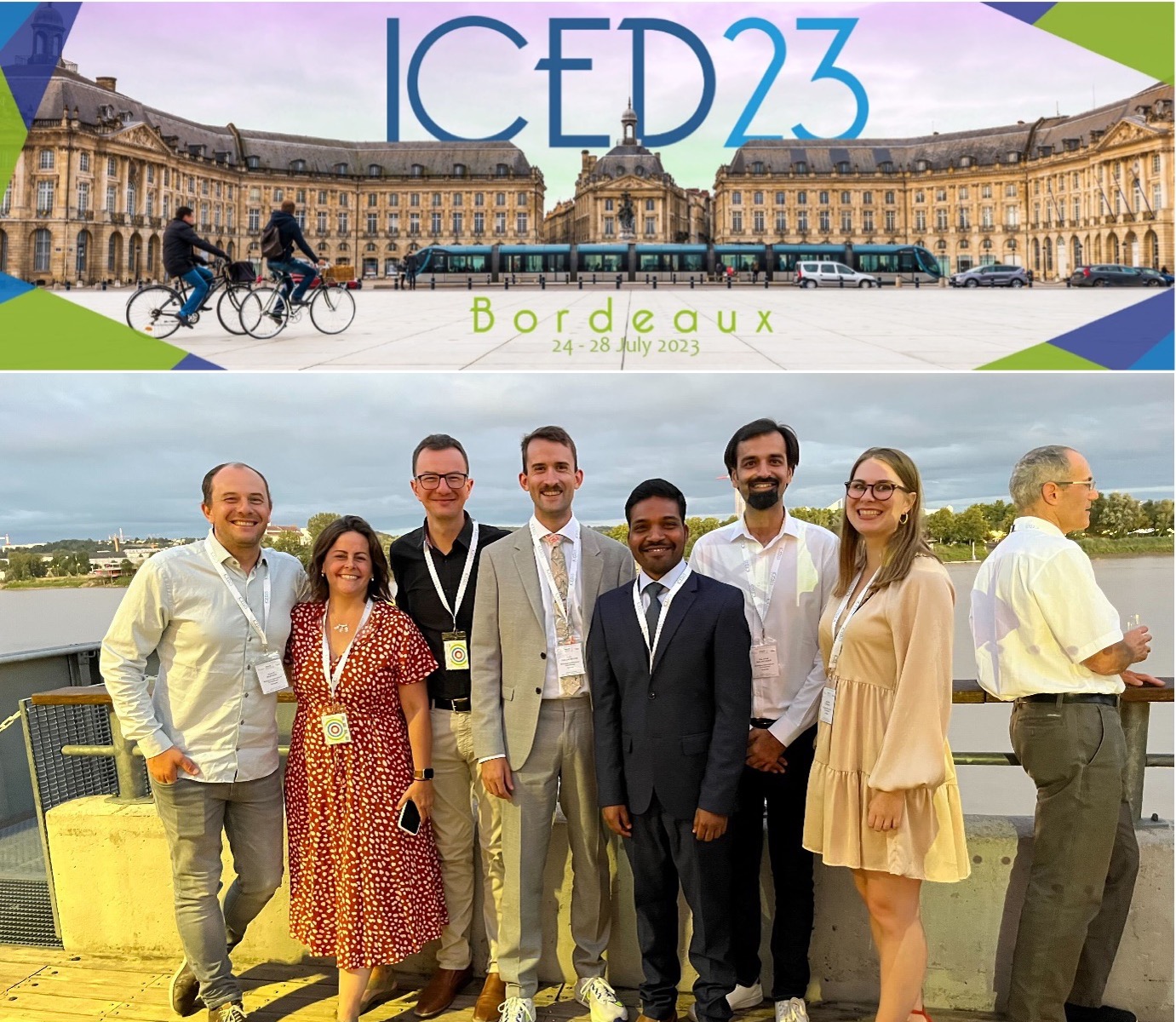 BTH PDRL at the 24th International Conference on Engineering Design 2023
The 24th International Conference on Engineering Design (ICED23) was held in Bordeaux, France, from July 24-28, 2023. The conference theme was "Design in a Complex World," and it explored the challenges and opportunities of designing for a world that is increasingly complex, interconnected, and uncertain.
The conference featured a variety of sessions, including plenary talks, podium presentations, discussion panels, and workshops. ICED biannual conferences are organized by the Design Society and represent premiere forums where the design community comes together to share insights, discover new ideas, and to stay on point of new developments in the field.
PDRL (Product Development Research Lab) was well represented at the conference with six research papers and hosted a workshop on "Design of Product-Service Systems (Extended Reality technologies for PSS design)".
The workshop was chaired by Marco Bertoni and it attracted around 15 participants, find highlights here. Alessandro Bertoni chaired a session on "Designing for the circular economy," and Marco Bertoni chaired "PSS and Service Design" session.
The PDRL papers presented at ICED23 covered a variety of topics, including:
The use of extended reality technologies in PSS design
The circular economy and PSS
The use of service design in PSS.
The papers were well-received by the conference audience, and with good discussions. PDRL is looking forward to participating in next ICED'25 Conference in Dallas, USA.
Below is the list of PDRL papers accepted and presented in ICED'23, where one paper was a collaboration with other European universities for the international design engineering annual (IDEA) challenge and one paper has a co-author from the industry.
Bertoni, M., & Thorn, S. (2023). A VALUE-DRIVEN DESIGN APPROACH FOR THE VIRTUAL VERIFICATION AND VALIDATION OF AUTONOMOUS VEHICLE SOLUTIONS


Abstract: Autonomous vehicle solutions (AVS) are regarded as a major enabling technology to support the realization of 'total site solutions' in the construction equipment industry. Their full-scale deployment is hindered today by the need to test autonomous driving capabilities against the varying conditions an AVS is expected to be exposed to during its lifetime. Therefore, using virtual simulation environments is common to overcome the cost and time limitations of physical testing. A caveat in this virtual verification and validation (V&V) work is how to trade off the 'realism' of the V&V output (using high-fidelity models across many scenarios) against computational time. This research investigates expectations and needs for value-driven decision support in the virtual V&V process, proposing an approach and a tool to raise awareness among decision-makers about the value associated with using selected simulation models/components in the virtual verification and validation task for AVS. Verification activities performed on the initial prototype show that its main benefit lies in facilitating cross-domain negotiations and knowledge sharing when negotiating the desired features of the virtual simulation environment.
DOI: https://doi.org/10.1017/pds.2023.44
Scurati, G., Kwok, S., Ferrise, F., & Bertoni, M. (2023). A STUDY ON THE POTENTIAL OF GAME BASED LEARNING FOR SUSTAINABILITY EDUCATION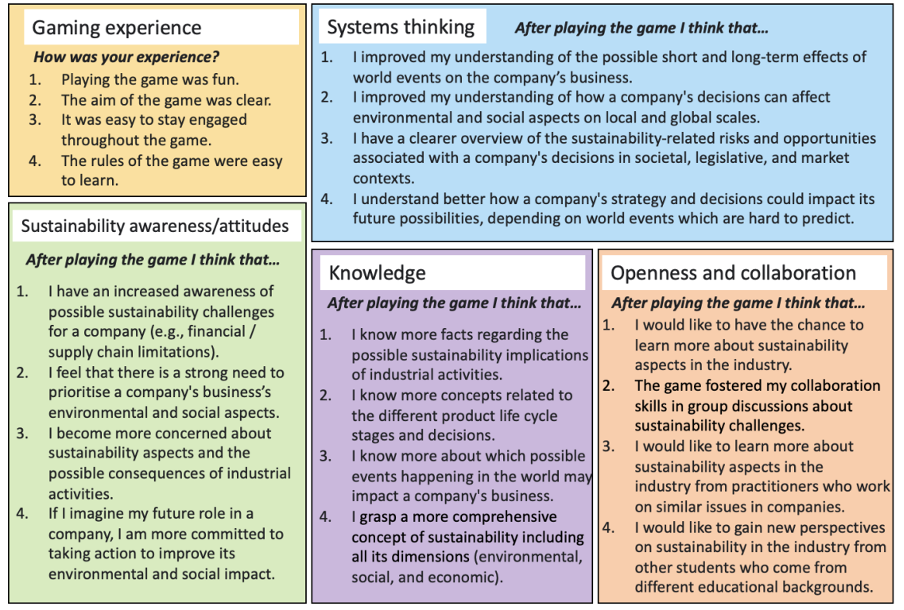 Abstract: Academic institutions are increasingly required to prepare future practitioners to face complex sustainability challenges. The need to foster the development of different skills, attitudes, and multidisciplinary collaboration raised the interest in alternative learning approaches. Game-based learning can be a tool to achieve a variety of desirable learning outcomes, including sustainability and collaborative attitudes change. We present a pilot study investigating the potential of a board game on sustainability risks and opportunities in product development and life cycle, performing a test with different student audiences. The paper discusses our results of the experiment, including a survey following the game, qualitative analysis of students' feedback, and observations during the game sessions. Additionally, we relate insights from students' reflections to CDIO learning objectives. We then illustrate lessons learned and the potential advantages of using the game compared to other teaching approaches and as a complementary tool. Finally, we propose future directions and recommendations for the use of the board game and game-based learning in sustainability education with different student audiences.
DOI: https://doi.org/10.1017/pds.2023.42
Ege, D., Goudswaard, M., Nesheim, O., Eikevåg, S., Bjelland, Ø, Christensen, K., Ballantyne, R., Su, S., Cox, C., Timperley, L., Aeddula. O., Machchhar, R.J., Ruvald, R., Li, J., Figueiredo, S., Deo, S., Horvat, N., Čeh, I., Šklebar, J., Miler, D., Gopsill, J., Hicks, B., Steinert, M.(2023). VIRTUALLY HOSTED HACKATHONS FOR DESIGN RESEARCH: LESSONS LEARNED FROM THE INTERNATIONAL DESIGN ENGINEERING ANNUAL (IDEA) CHALLENGE 2022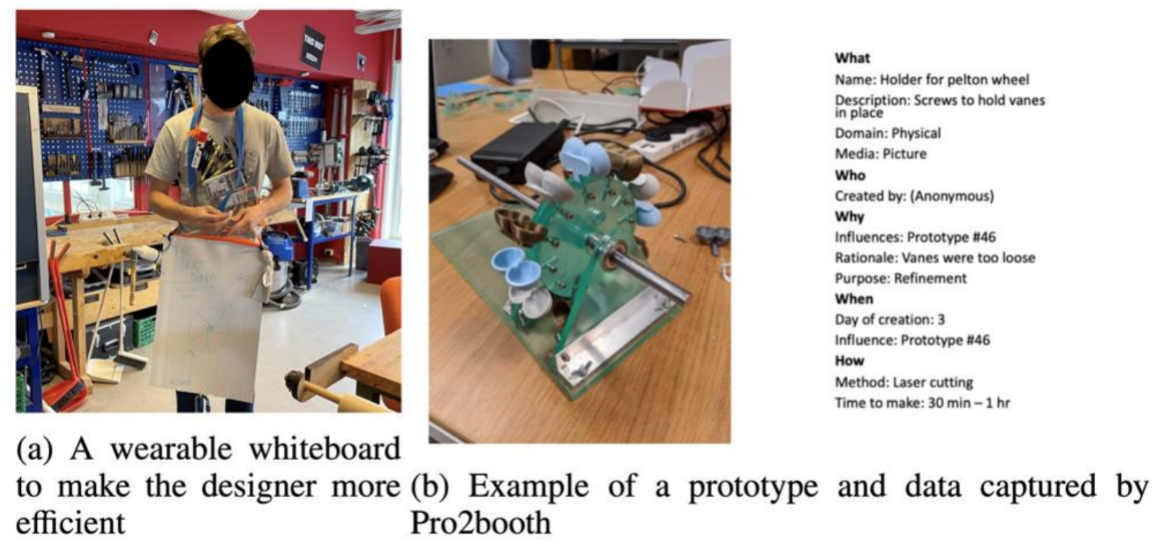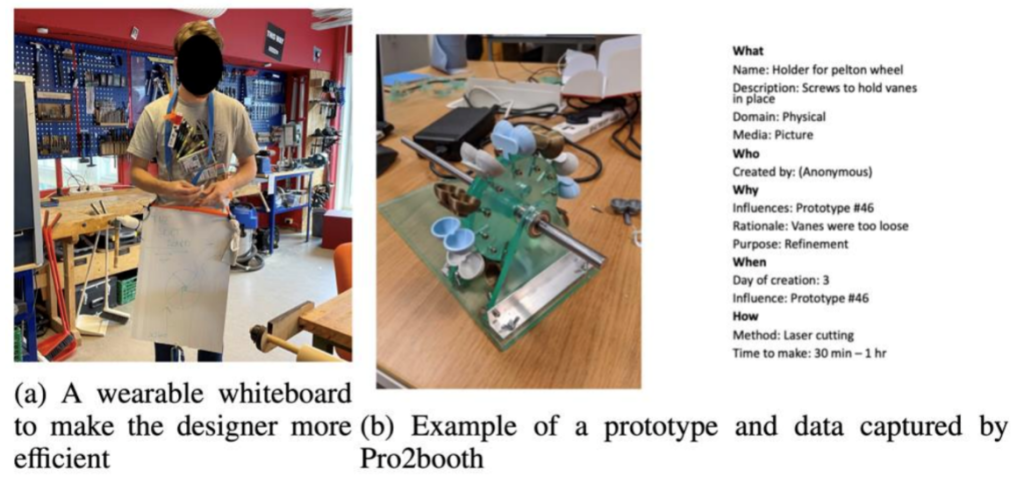 Abstract: The International Design Engineering Annual (IDEA) Challenge is a virtually hosted hackathon for Engineering Design researchers with aims of: i) generating open access datasets; ii) fostering community between researchers; and, iii) applying great design minds to develop solutions to real design problems. This paper presents the 2022 IDEA challenge and elements of the captured dataset with the aim of providing insights into prototyping behaviours at virtually hosted hackathons, comparing it with the 2021 challenge dataset and providing reflections and learnings from two years of running the challenge. The dataset is shown to provide valuable insights into how designers spend their time at hackathon events and how, why and when prototypes are used during their design processes. The dataset also corroborates the findings from the 2021 dataset, demonstrating the complementarity of physical and sketch prototypes. With this paper, we also invite the wider community to contribute to the IDEA Challenge in future years, either as participants or in using the platform to run their own design studies.
DOI: https://doi.org/10.1017/pds.2023.382
Scurati, G., Dozio, N., Ferrise, F., & Bertoni, M. (2023). BEYOND THE OVERVIEW EFFECT: A VIRTUAL REALITY EXPERIENCE FOR SUSTAINABILITY AWARENESS IN DECISION-MAKING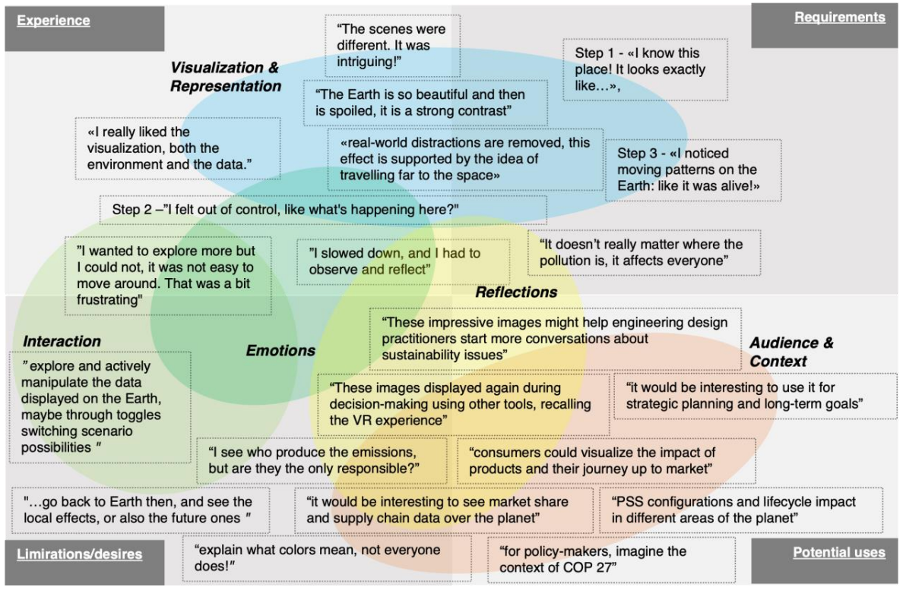 Abstract: The challenges of sustainable development require a consistent transformation of decision-making practices in society and in the industry. In this regard, Virtual Reality (VR) is an effective tool, providing experiences that are not accessible in the real world. The overview effect is a feeling of interconnectedness and responsibility towards our planet and its inhabitants described by astronauts after seeing the Earth during spaceflights. We present a VR application merging the overview effect with data visualization. We illustrate the design process and perform a pilot test to assess the emotions raised by the VR experience. Furthermore, we report feedback from design engineering and sustainability experts discussing the applications' potential in decision-making contexts, including product development processes.
DOI: https://doi.org/10.1017/pds.2023.78
Bertoni, A. (2023). MITIGATING UNCERTAINTY IN CONCEPTUAL DESIGN USING OPERATIONAL SCENARIO SIMULATIONS: A DATA-DRIVEN EXTENSION OF THE EVOKE APPROACH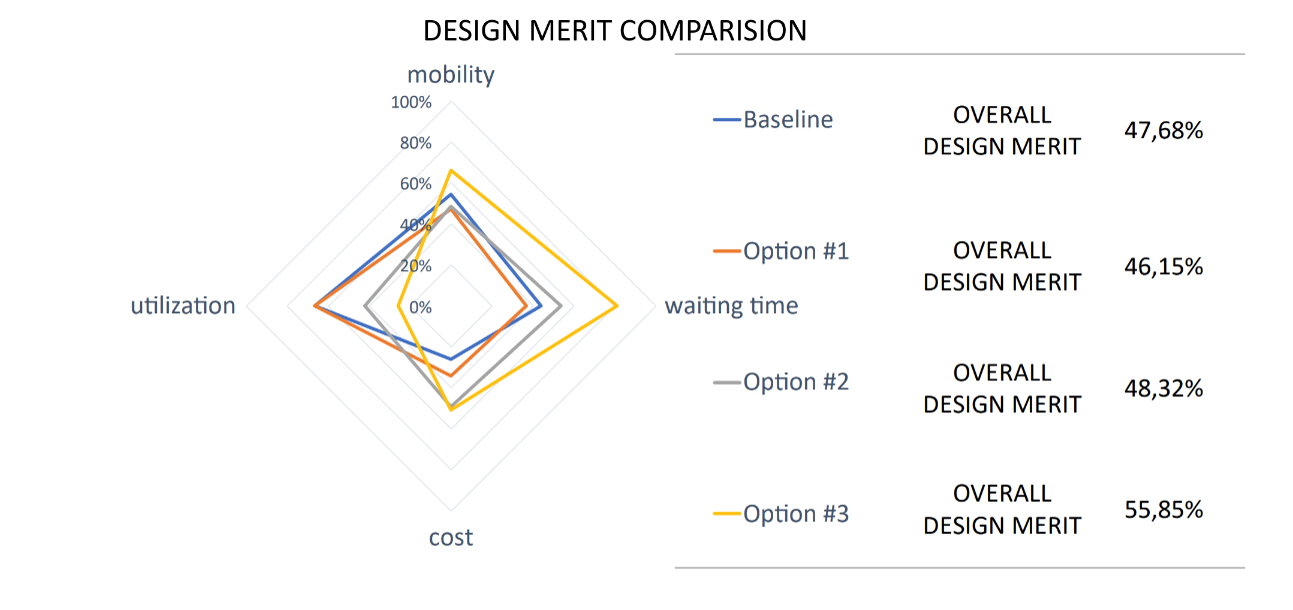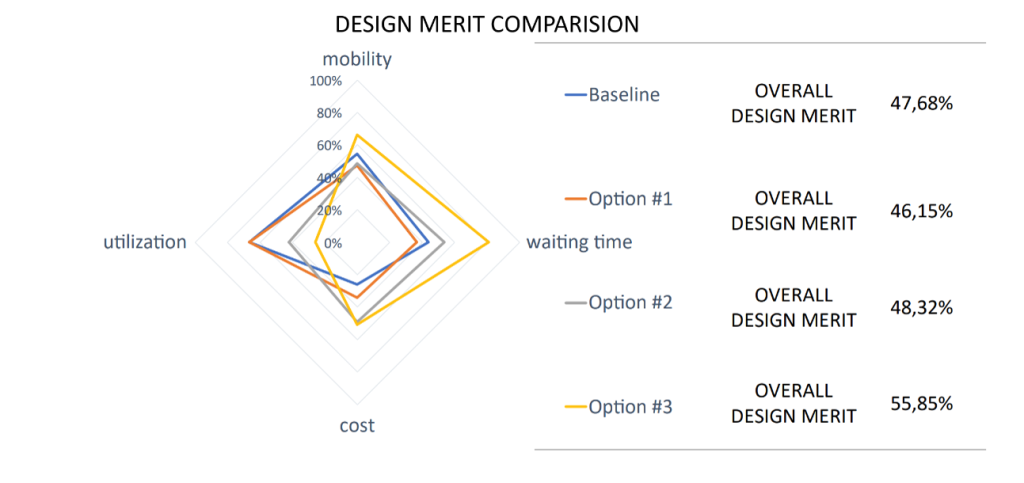 Abstract: The paper presents an approach where the iterative replication of Discrete Event Simulations on future operational scenarios is used to derive data-driven design merit functions. The presented contribution proposes an extension of the EVOKE (Early Value Oriented Design Exploration with Knowledge Maturity) approach determining when and how the experience-based judgment about maximization, minimization, optimization, and avoidance functions, correlating value drivers and quantified objectives, can be substituted by data-driven mathematical functions obtained by scenarios simulations. The approach is described through a simplified case concerning the development of autonomous electric vehicles to complement the public transport system in the city of Karlskrona in Sweden. The consideration of value drivers and quantified objectives presented is meant to support a preliminary screening of potential design configurations to support the definition of high-level product and system-related functional requirements, to be run before a more detailed conceptual design analysis.
DOI: https://doi.org/10.1017/pds.2023.267
Machchhar, R., Aeddula, O., Bertoni, A., Wall, J., & Larsson, T. (2023). SUPPORTING CHANGEABILITY QUANTIFICATION IN PRODUCT-SERVICE SYSTEMS VIA CLUSTERING ALGORITHM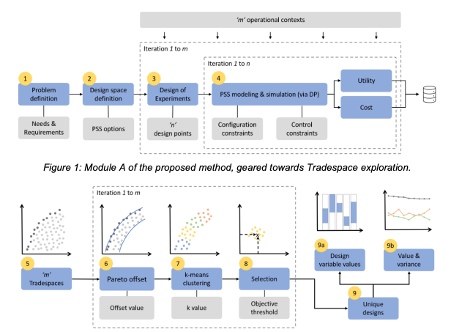 Abstract: The design of Product-Service Systems (PSS) is challenging due to the inherent complexities and the associated uncertainties. This challenge aggravates when the PSS being considered has a longer lifespan, is expected to encounter a dynamic context, and integrates many novel technologies. From systems engineering literature, one of the measures for mitigating the risks associated with the uncertainties is incorporating means in the system to change internally as a response to change externally. Such systems are referred to as value-robust systems, and their development largely relies on Tradespace exploration and synthesis. Tradespace exploration and synthesis can be challenging and a time-consuming task due to dimensionality. In this light, this paper aims to present an approach that enables the population of the Tradespace and then, supports the synthesis of such a Tradespace using a clustering algorithm for support changeability quantification in PSS. The proposed method is also implemented on a demonstrative case from the construction machinery industry.
DOI: https://doi.org/10.1017/pds.2023.323