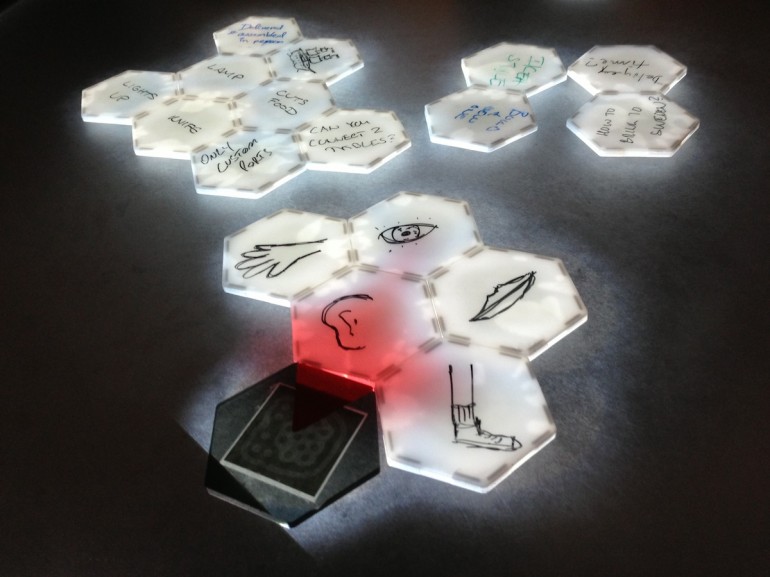 IDÉUM – Beyond brainstorming!
IDÉUM was created during Stanford ME310 & BTH PSS Extreme Innovation courses with a joint team of mechanical engineering students with corporate sponsors.

The prompt;
How might we build confidence and make a user feel like an innovative genius, with a tool that actually helps develop creative skills?
The context?
In the eyes of our users, creativity is a cryptic, mysterious process, one which requires a magical X-factor that they simply lack. In reality, learning to be creative just takes hard work and diligence. Researchers who study the greatest creative minds can point to a well-defined set of behaviors that allow them to make new connections and see design challenges in a new light. The d.School has concrete rules of brainstorming that have been shown to create better and more rapid output. It is easy enough to tell teams these rules, but it takes time and practice for this behavior to become internalized. What if, instead of telling them these rules, we showed them? What if the form of your brainstorming tool made these behaviors intuitive, a natural consequence of use?
The outcome?
The result of following this line of thinking, arrived at through extensive prototyping and user testing, is IDÉUM: a workspace for building brighter ideas and better brainstorming behavior.
Instead of on Post-It notes, ideas are written down on hexagonal shaped tiles with embedded magnets. The tiles snap together with a gratifying click, inviting users to build on others ideas, one of the main Rules of Brainstorming. Another rule, that every idea is special and deserves to be paid attention to, is manifest when the tile is placed on the IDÉUM work surface: the idea is illuminated by a spotlight. The spotlight chases after ideas as they are slid around and reorganized, injecting kinetic energy into the discussion. When ideas are snapped together, the lights grow brighter and bigger, once again positively reinforcing idea building. The horizontal work surface encourages equal participation, while the standing configuration summons physical energy and movement. Special tiles that change the spotlight color can be used to highlight certain ideas, while a small but flexible set of other shapes allow teams to organize ideas according to their own visual vocabulary. Finally, the industrial design nods to the naval traditions of Karlskrona, while having a dynamic, inspiring, and futuristic form.
User feedback from our initial testing has been overwhelmingly positive. The system is intuitive: users instantly understand how to use it and start to build on each others' ideas. In addition to a clear increase in engagement, testers agree that the experience provides a subtle sense of magic that must be experienced first-hand. One team we tested it with, a group working on a ten-week long project, had been stuck in a brainstorming rut for weeks. After two hours of using our table, they managed to see things in a new light and find new ideas that they could get excited about again. When interviewed, team members said that it didnt feel like the brainstorming sessions they had been doing over and over again – it felt like 'a fun break… that happened to generate a lot of useful insights. Indeed, central to IDÉUM s efficacy is its introduction of a sense of play back into brainstorming.
IDÉUM is built to be expandable, and it knows where every idea is and has been during a brainstorming session. During user testing, this untapped potential evoked tremendous excitement about other potential applications – from collecting data for design researchers, to elementary education, and even brainstorming games that leverage idea tracking – that we plan on opening it up as a platform for outside developers. Our sponsor has requested a set of IDÉUMs for Kungshall, and companies such as NASA, Intel, and game developers have expressed interest in using IDÉUM, as well as a number of Stanford and international professors. We are excited to move into the next phase of our project, where we will do minor redesigns in order to manufacture the table at a larger scale by outside partners. We cannot wait to see IDÉUM deployed in innovation spaces, and watch the way it changes teams' creative processes.
171 page project report including full material list, total cost of purchase and design material is available.
The team