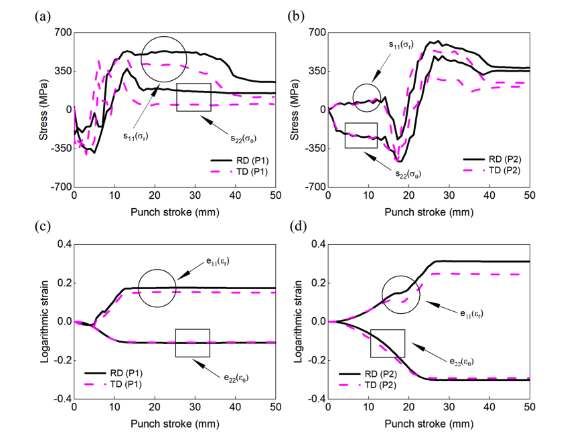 Constitutive modeling of commercial pure titanium sheet based on non-associated flow rule and differential hardening
Abstract
The commercial-pure titanium (CP-Ti) sheet has attracted a great interest from biomedical and aerospace industries because of its strong mechanical advantages such as lightweight, high strength, good formability, and corrosion-resistance. However, strong anisotropic features, such as evolutionary yield surface and strength difference in tension and compression, of the CP-Ti require advanced constitutive modeling compared to standard advanced high strength steel sheets. This study took into account the differential hardening behavior and the changing R-value of CP-Ti sheet observed during the uniaxial tensile and bulge tests in developing a material model. The observed behaviors are modeled by Hill48 quadratic function based on non-associated flow rule with equivalent plastic work dependent evolutionary parameters. The developed material model was then implemented into a user material subroutine (VUMAT) for ABAQUS/EXPLICIT and used to simulate a circular deep drawing to verify the developed model. Simulation results are compared with those of a material model coupling Yld2000–2d yield function with associated flow rule. The comparison shows that the developed material model provides not only a good agreement with the experiment for yield and potential surfaces but also accurate predictions in forming simulations.
Keywords
Anisotropic yield function, Commercial pure titanium, Differential hardening, Evolutionary parameters, Finite element analysis, Non-associated flow rule
Reference
Jinjae Kim, Quoc Tuan Pham, Jinjin Ha, Young Suk Kim, 2022 "Constitutive modeling of commercial pure titanium sheet based on non-associated flow rule and differential hardening", International Journal of Mechanical Sciences, Volume 230, 2022, 107549, ISSN 0020-7403, https://doi.org/10.1016/j.ijmecsci.2022.107549.
Download