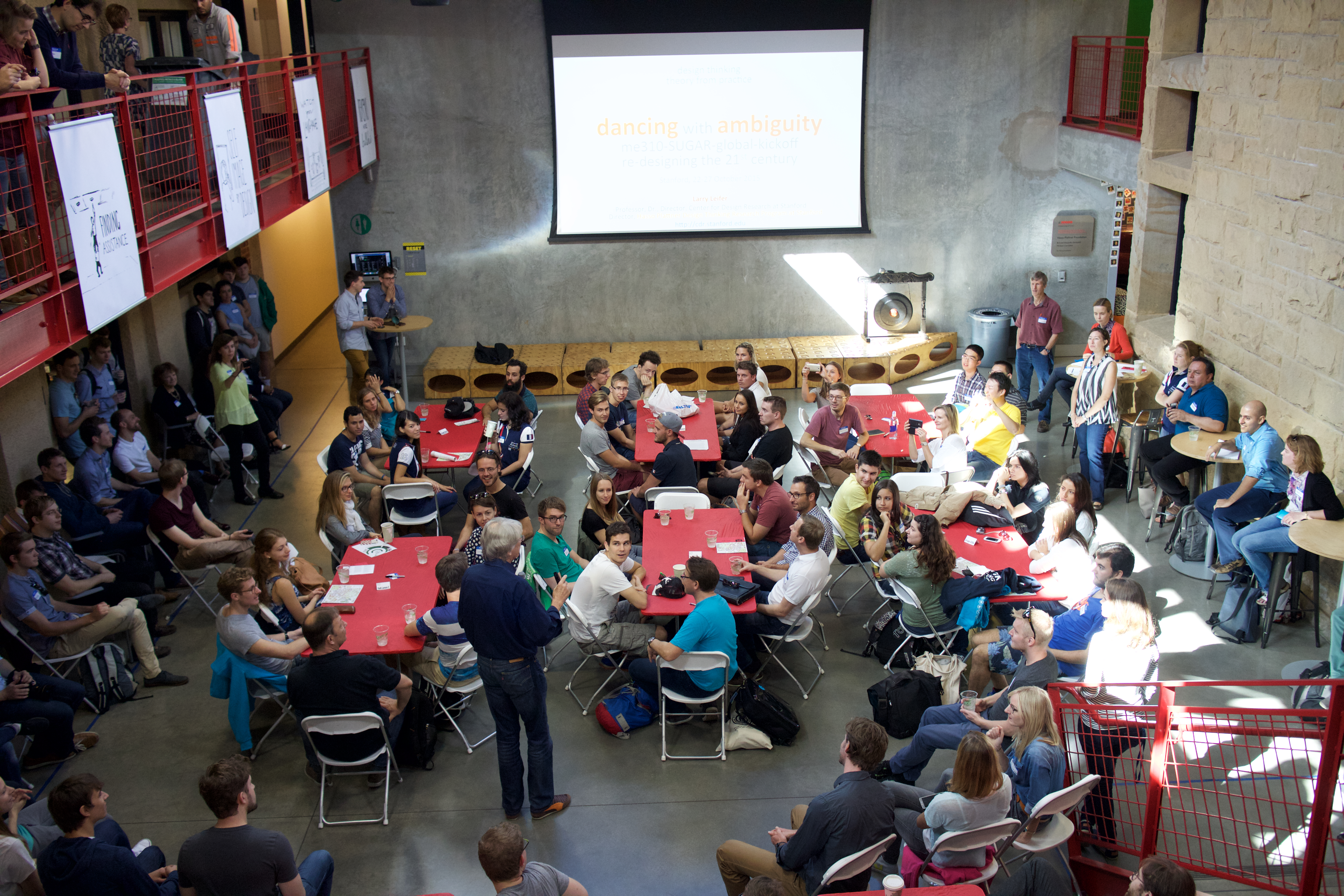 "Dancing with ambiguity" in global Stanford/BTH/Volvo innovation project
Late October, a team of BTH Mechanical Engineering students, and future game-changers, travelled to Palo Alto, and the world #1 engineering university; Stanford University. It was time for the kick-off for the 2015/16 ME310 Global New Product Design Innovation.
ME310 is a course where a global network of designers, engineers and innovators are challenging complex real world problems. Each academic year about 100 masters-level students participate in ME310 including 8-10 of top global engineering and design universities from around the world, together with live industry projects, hence the Global.
The course  aims to build students capabilities in design thinking by matching students with real life problems, and hence in collaboration with corporate partners. Teaching how to "dance with ambiguity" as Professor Larry Leifer introduce his ME310 talk with. The teams consists of 3-4 Stanford Mechanical Engineering students and 3-4 global university students.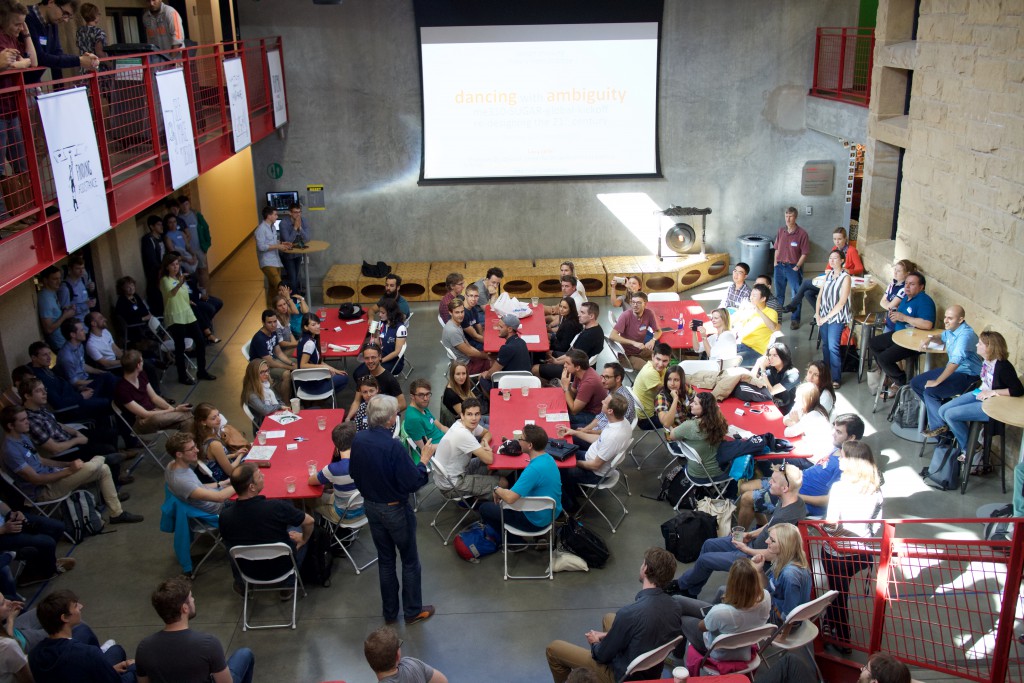 For the 4th straight year BTH enter in partnership with Volvo Construction Equipment (see previous experiences here).
Here follows an interview with Jenny Elfsberg, Director of Emerging Technologies, Volvo CE.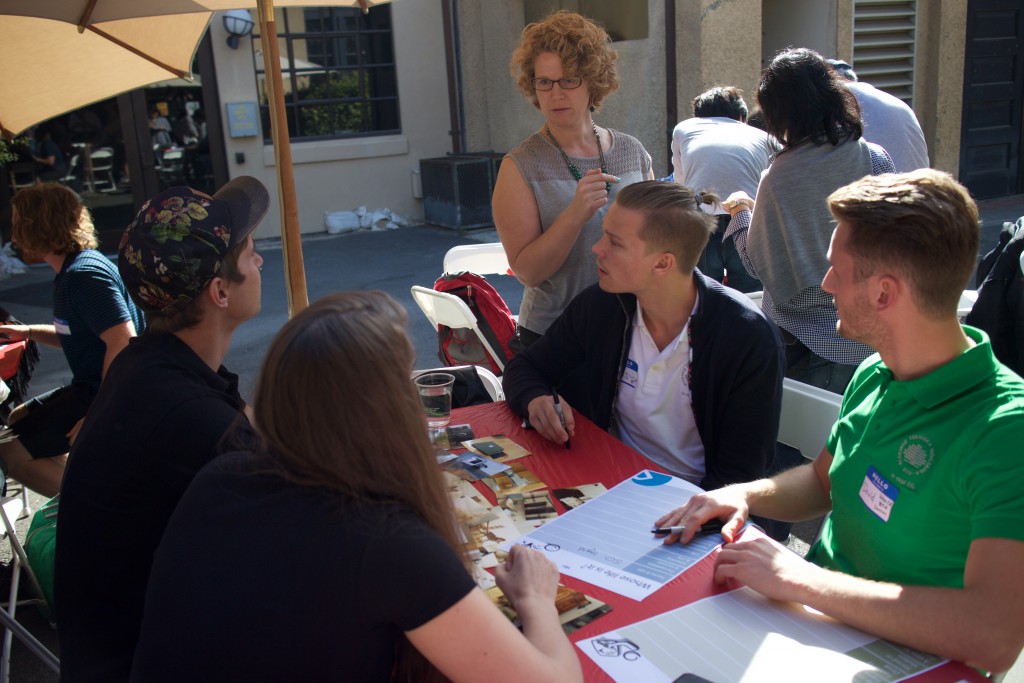 You decided to go again with Stanford/BTH global design project in ME310, how come?
"There are several reasons. One is that the previous year's projects have proven to us that both the hard results and the learning experience brings a lot of value to Volvo. Method wise the projects have been extremely helpful for us to become convinced that the design thinking approach is effective and also needed in Volvo. Prototype wise the student teams have given us a lot of new opportunities and insights, both on physical prototype level and on potential future business opportunity level. The Urban Mining concept continues to be very interesting for Volvo CE as a company that wants to help making the world a better place, but this year we are looking at another challenge while we work internally on how to proceed with the urban mining segment."    
What is the experience you draw from these global engineering projects?
"My learnings include methods that I can implement in Volvo, such as needfinding and design thinking, it also includes a strong network in the innovation and design thinking domain, the possibility to discuss and benchmark Volvo CE vs other companies is also an important experience. I also learn a lot about cultural differences and distributed team collaboration and more than everything else I see the absolute unreplaceable value of utilizing student teams for explorative activities – they do not limit themselves as we within Volvo tend to do based on our experience and context."
Is there a global difference in how we attack engineering problems, as you have engineering development across the globe?
"There are differences; strengths and weaknesses in all cultures, and my opinion is that as a leader you are expected to build on the different strengths, utilize the diversity as an asset and at the same time be aware about, but not focus on the weaknesses. I am very energized by how many students focus on asking many, many questions and not believing they have the answers – I would love to see us in Volvo develop that capability a bit more – combined with all the extensive experience and knowledge we have. Just like in Yoga practice you need to keep beginners mind, no matter how experienced you are, because every day is a new and different day and we all know how rapidly the world is changing right now… what was an undisputable fact yesterday might be false tomorrow."   
What project are you exploring this year?
"Our industry is like other industries moving into electrification and automation and we expect to see self-operating haulers, excavators etc. Just like car industry is making itself and the society ready for self-driving cars. Our machines collaborate in construction sites and do not only transport from A to B. Several of our customers operations are very complex and will need human operators for some tasks and autonomous machines for other tasks. We are worrying about the productivity and safety perspective as well as the human experience perspective. We hope that the student team will help us to understand the challenges better and prototype solutions that will make the future workplace safe and efficient, while all humans collaborating with the machines or just passing by are feeling safe and trust the machines… "  
What is the role of this project for the future exploration of Volvo CE?
"The project helps us to understand the total challenge, not only the financial and technical ones where we tend to put most focus otherwise, and supporting us building competence and capacity for managing this disruptive challenge of autonomy that will occur."
BTH team of 2015-16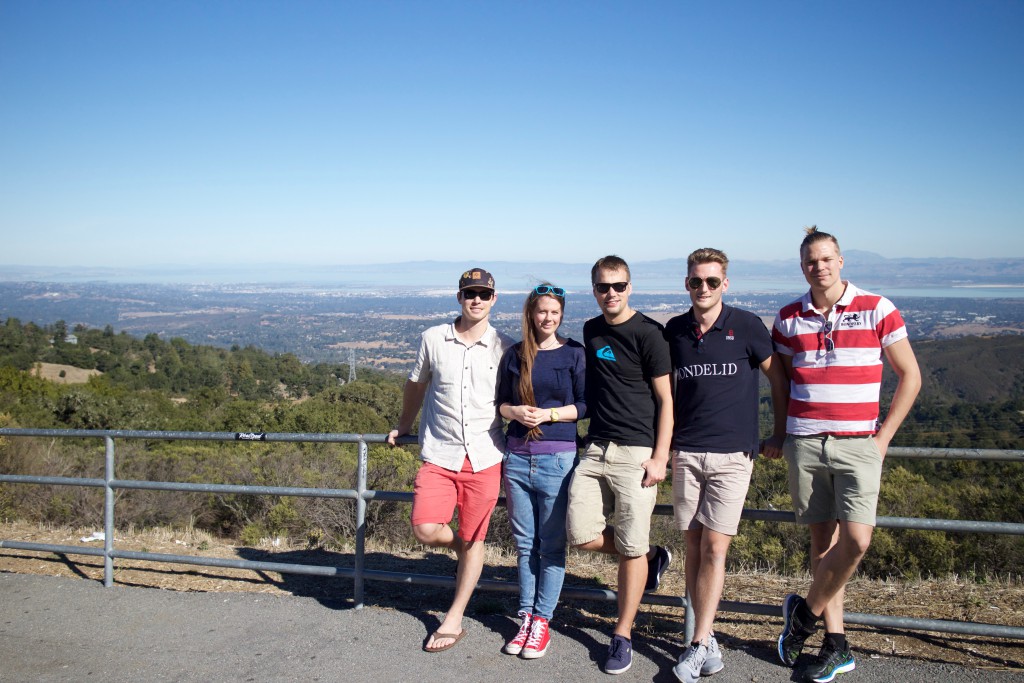 Leading up to finding the team, BTH have used design challenges like 10X.Engineering where students could sign up for a day of prototyping fun (in this case with Hyperloop as the inspiration via the Euroloop inititative). Also previous course experiences have played a role in finding the team. The team now consists of mechanical engineers from Stanford, and BTH Mechanical Engineering, and MSPI programme.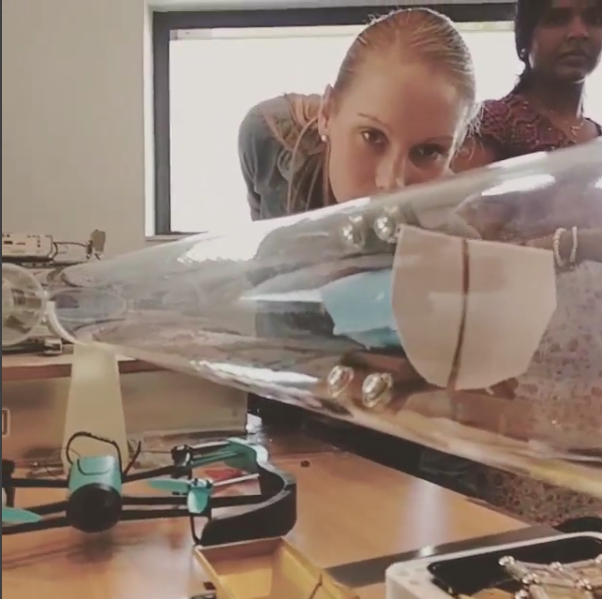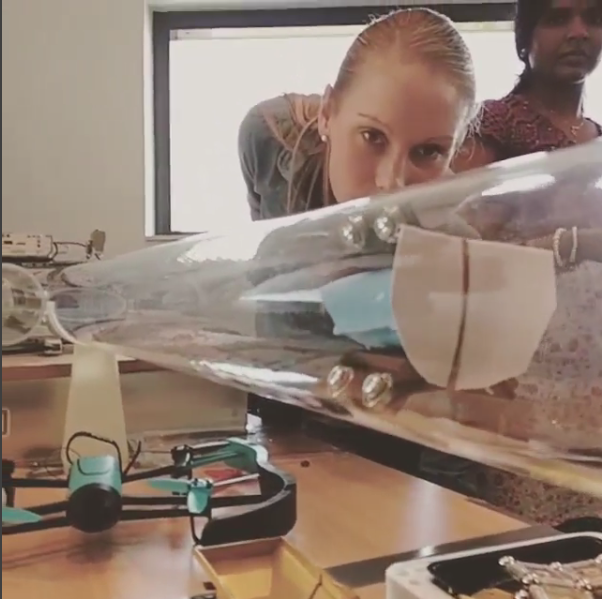 "I've been collaborating with Stanford and the Design Division and d.school for several years going back to 90'ies and since moving to BTH we've been deepening the collaboration between BTH Mechanical Engineering and Stanford Mechanical Engineering to be able to offer continuous project collaboration in global innovation projects together with industry", says Professor Tobias Larsson of Mechanical Engineering and the  Product Development Research Lab.
He continues; "We are now continuously scouting for projects with industry connections for upcoming ME310 projects, and also interested students to participate. The projects are tough and demanding, but extremely rewarding. We had a nice expereince this year in setting up for the team by using the 10X.Engineering day as a teaser to attract the students who may spend a day on extra activities. Also the  BTH Innovation Bootcamps has been a way to gain interest for applied innovation activities."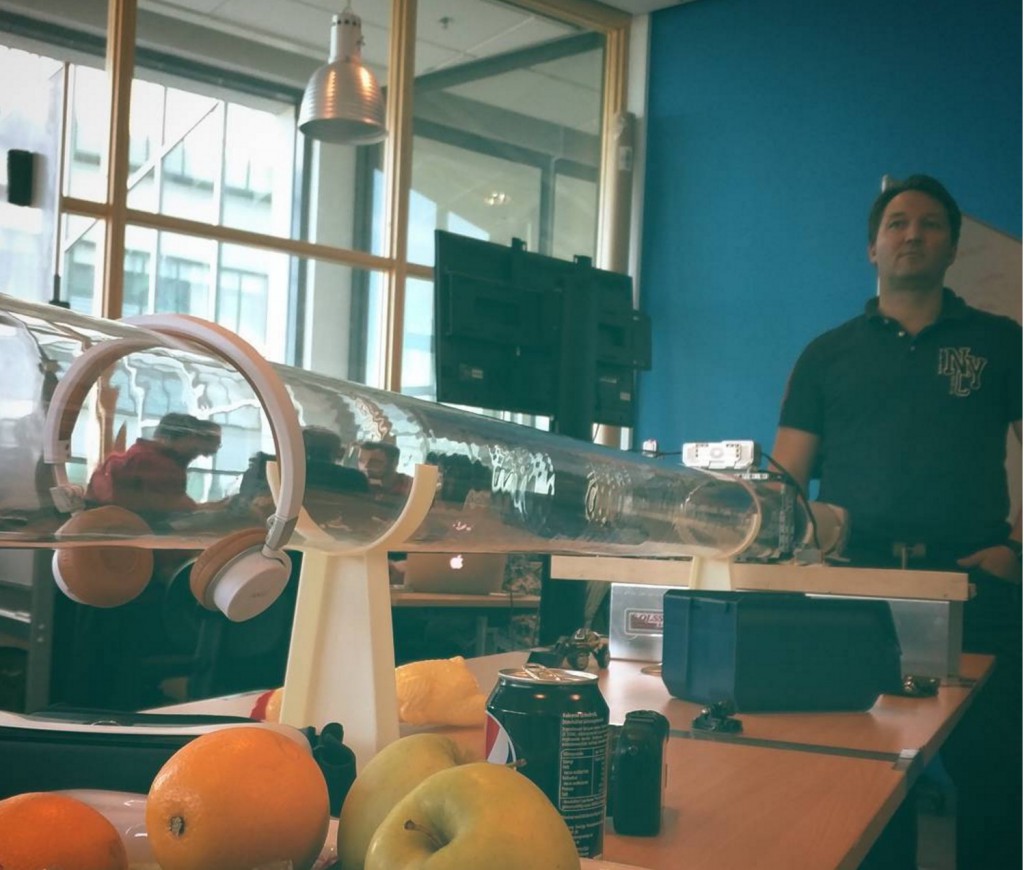 – ME310 Global Design Innovation will again prove itself to be a valuable experience for both students and partners. For BTH students to be able to collaborate "in real life" with one of our research partners, and also with prestigious Stanford University, is simply a great experience. Challenging, but also rewarding, I can't wait to see the outcomes! professor Tobias Larsson concludes.
From Volvo CE Jenny Elfsberg, Martin Frank, and Michael Stec will support the team, and from BTH Christian Johansson, Tobias Larsson, Andreas Larsson and entrepreneur Sebastian Sjöberg will support the team.
For more information contact Product Development Research Lab Director Professor Tobias Larsson, tlr@bth.se, or coach Christian Johansson, Assistant Professor, christian.m.johansson@bth.se.