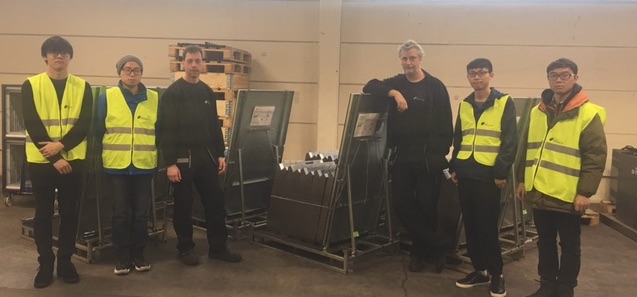 Besök på Tre D Mekaniska med projekt Lastbärare
I veckan besökte fyra Kinesiska utbytesstudenter i maskinteknik från Shanghai Second Polytechnic University och Kunming University of Science and Technology (båda partneruniversitet till BTH) Tre D Mekaniska AB. Besöket var ett led i deras projekt där de har modellerat, utfört hållfasthetsanalyser, simulerat tyngdpunktsbestämmelse och ledning på deras egenutvecklade lastbärare (se bakgrunden), för att nu kontrollera tillgängliga tillverkningsmetoder på plats.
Guidning i Tre D Mekaniska högteknologiska maskinpark gjordes av Kristoffer Persson, en av fem ägare i bolaget samt Jan Johansson, mekanikkonstruktör.