New course: MT2549 Simulation-driven design
This autumn we'll offer a new course for our master students, Simulation-driven design. In a simulation-driven design (SDD) process, decisions related to the behavior and the performance of the design are significantly supported by computer-based product modelling and simulation. Rather than just verifying solutions that are already decided upon, SDD support dialogues with customers, stimulate creation of new concepts and provide guidance towards more optimized designs. The purpose of the course is to give students knowledge to understand, as well as ability to implement and use, theories and methods for simulation support in product development.

The course includes the following main parts:
• Simulation-driven design
• Introduction to optimization and its use in product development.
• Simulation process automation: Setup and execute chained simulation process flows containing several different software packages.
• Methods for structured and efficient design space exploration using mathematical models.
Theory will be exemplified using real-life design or decision-making situations within applications such as solid mechanics, structural dynamics and heat conduction.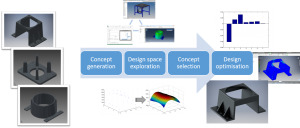 Follow link to find course syllabus: http://edu.bth.se/utbildning/utb_kurstillfalle.asp?KtTermin=20172&KtAnmKod=T0002980&lang=en&parentPtKod=MTAMT16h
For more information contact course responsible: Johan Wall, johan.wall@bth.se