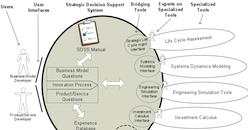 Decision Support for Sustainable Value Chains – DecSUS | 2010-2013

Objectives: This project aims to provide product developers with quick and cost-effective decision support to address product life cycle sustainability issues, thereby facilitating industrial ability to produce more sustainable and profitable products. This breaks down into the following project objectives:
– O1: Explore the current state of art and state of practice within the fields of sustainable product innovation, product-service system innovation and decision support systems.
– O2: Develop a method (tool) to identify, define and quantify sustainability/value integrated drivers for product development used for decision support in early development phases.
– O3: Validate through test cases together with industry the effect of the method in complementary contexts.
BTH project leader: Henrik Ny (PhD)
Time span: 2010-2013
Funding: 9.6 MSEK (3,8 MSEK from KKS, 1,5 MSEK from BTH and 4,3 MSEK from companies)
Academic partners: BTH, Lund University, Technical University of Denmark (DTU)
Industrial Partners: Volvo Aero Corporation, Aura Light International AB, Dynapac Compaction Equipment AB, Stena Metall AB, eco2win AB, Enell Sustainable Business, Svensk Avfallsrådgivning AB, Coresource AB
Project brief:
Related links: