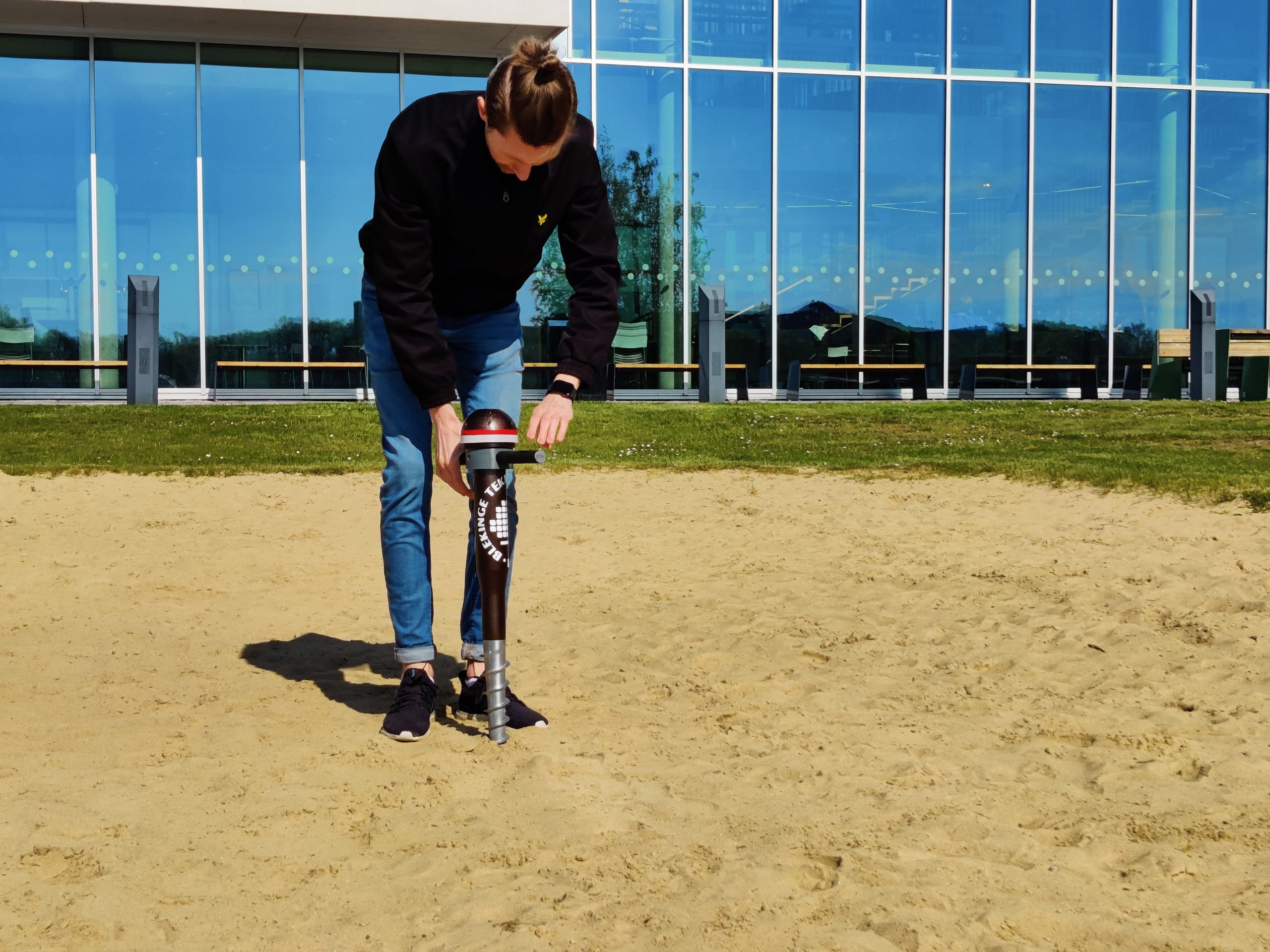 DNES for tracking Dirt Digitally with Volvo Group presented at Stanford EXPE
DNES, an integrated platform solution that supports a timely, safe, and more sustainable management of construction materials in and between construction sites, was presented at the Stanford University final design exhibition EXPE last Thursday. Three final-year mechanical engineering students from BTH along with their four American collaborators from Stanford University's mechanical engineering program presented and demonstrated their solution in a distributed hybrid setting. In their capstone project, ME310, which runs from October to June, they move in a Design Thinking process through phases of needfinding, ideation, prototyping, and more to arrive at a final detail designed product to display at the final exhibition, the EXPE.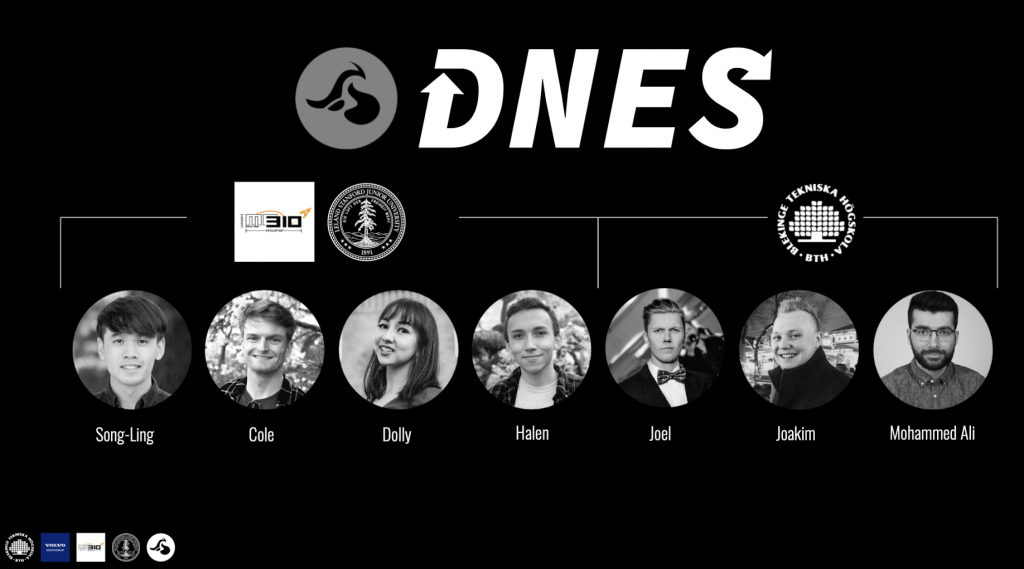 The high degree of digitization in today's society enables tracking of materials and equipment at construction sites, which provides a deeper understanding and potentially optimizes efficiency. In this way, you can optimize the use while making demands on suppliers on what type of material and equipment you as a customer want and be able to control this in a fast and safe way. In this project, the Volvo Group with Volvo CE challenged the students to create 'digital dirt', i.e., to digitize soil masses and other materials, and thus pave the way for understanding the properties, history, and environmental impact of building materials.
With digital technologies, we may enable stakeholders to take on greater responsibility for the environmental impact of construction, where they can track material from "rock to road" and integrate the flow of information into the construction factory, and enable a sustainability perspective.
What if the user could track valuable material on its way through the process and through logistics without losing track of its origin, owner, emission level, energy consumption, to name a few novel properties, a digital blockchain of dirt?
What if the user could use the digital thread of material, formerly known as dirt, to repurpose it and mine it once again from urban landscape and thus save the bedrock?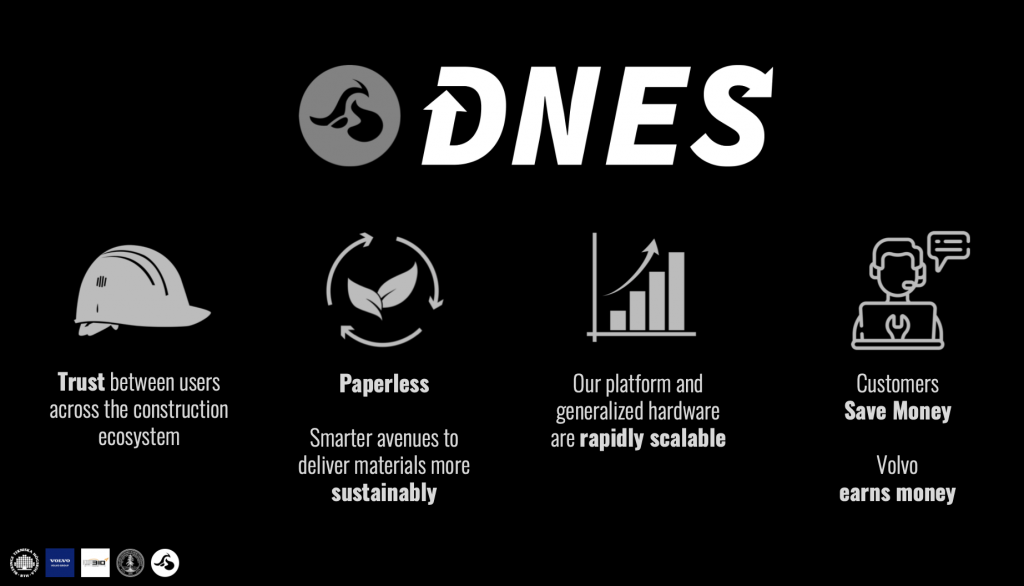 The solution is called DNES and is an integrated platform that uses distributed sensors and beacons to provide valuable data to a broad group of key people in the construction industry. DNES allows tracking materials on and off construction sites and other relevant areas that suit users, being both individuals and companies linked to the sale, purchase, and transportation of materials. The solution facilitates tracking and minimizes paperwork because the solution makes it possible to save all data in one place that everyone connected to material handling can take part in. That makes the solution universal and can be used between companies, ensuring that they handle materials per laws, rules, and requirements.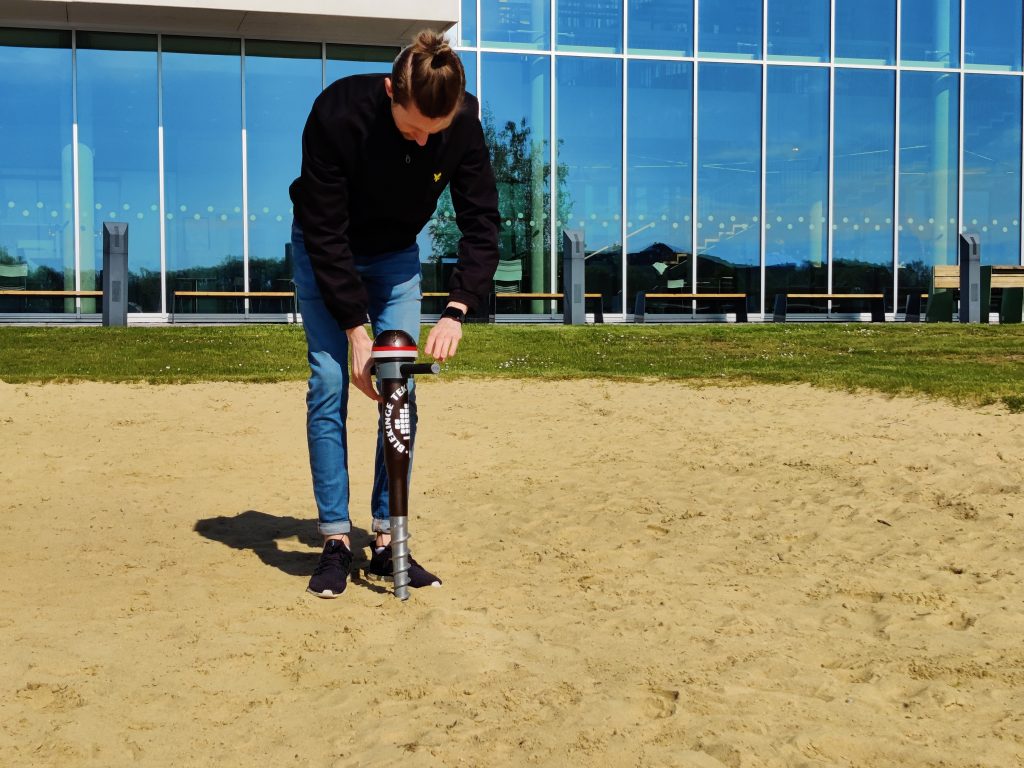 DNES consists of multiple hardware, software, and system components; on the hardware side there is a probe that houses sensors by which the condition of the soil can be analyzed and with that probe, there is a beacon that will go with the material payload to represent the material in transit from source to its destination. The web interface and app allow users to manage contractual elements and data, as well as accessing relevant information while the material is in transit. The backend system integrates data from the sensors and beacons with the actions taken by sellers and buyers via the app and web interfaces, safely and securely.
"The product is a two-part hardware solution in combination with an easy-to-use software to minimise the knowledge needed to understand shipping notes and also lowering the amount of physical shipping notes needed. The hardware contains a probe that measures moisture in the soil, and a beacon, that sends relevant data such as GPS location and moisture data to the software.", says Joakim Gylleneiden on the BTH team.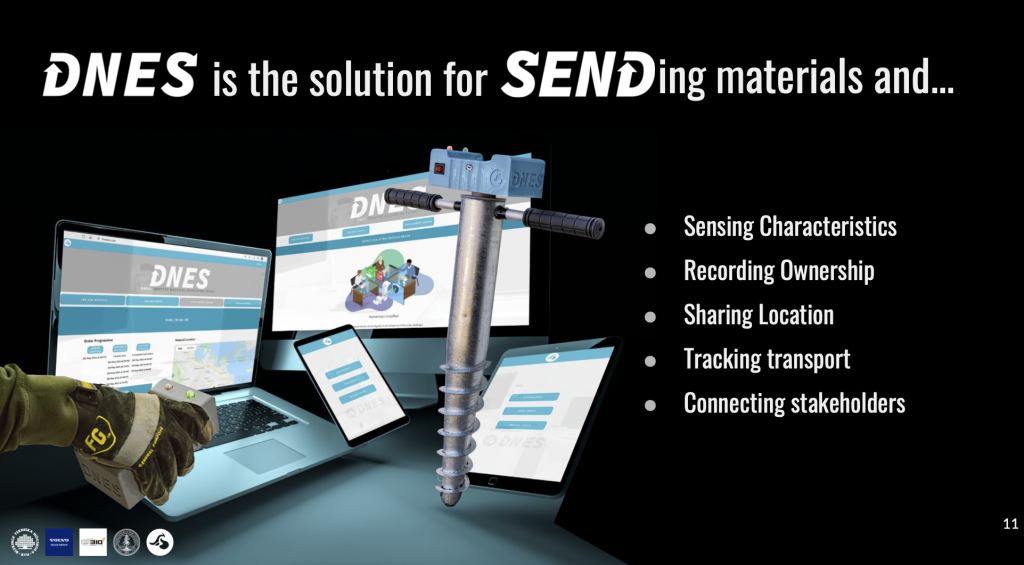 With the solution, the team can optimize aggregate material transport, provide tracking history, thus minimizing the associated carbon footprint of material, and provide information to create receipts and reports about materials. Perhaps most importantly, DNES provides value for construction sites by enabling the reuse of materials that previously were a time, space, and cost burden.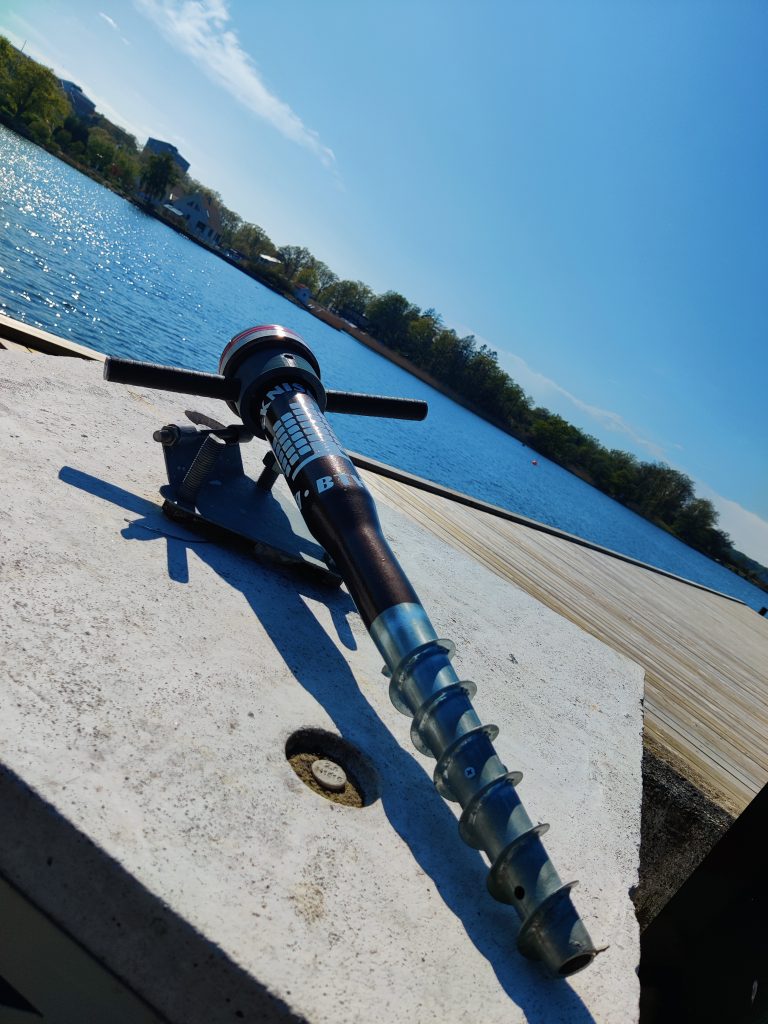 The solution offers a system to track dirt and its properties in a fast, simple and safe way while facilitating for the user regarding paperwork and optimization of how work should be. This in combination with the companies' transparency and traceability increases, means that customers and authorities can take greater responsibility in ensuring that companies comply with the rules, laws, and requirements imposed on them.
"During this project, the team had total freedom regarding the design choices and tools used, which has helped us explore new tools and techniques that have been of great importance for the project and individual development. There have been some exciting months exploring an industry that none in the team had a lot of previous experience in. I would recommend anyone getting the opportunity to be part of an international project to do it! It's super fun and rewarding.", says Joel Wirén on the BTH team.
"This project was a great mixture between complex and inspiring design challenges. It strengthened the ability to work together toward a common vision with a team of talented engineering students from BTH and Stanford University. I got the chance to apply my knowledge in design and product development obtained throughout my years of study. We were able to develop a product, a combination of hardware and software, that highlights the possibilities of digitalizing the data during the transportation process of soil masses in the construction industry. We had the opportunity to talk with and visit a verity of companies that works in construction related areas. I believe the knowledge and skills obtained from this project with Volvo Group will benefit me immensely in the future.", says Mohammed Ali Hussein on the BTH team
"This was a challenging project that includes all the fun parts of product development in combination with pushing the knowledge of both individuals and teams to new boundaries. The collaboration with Stanford University and Volvo has given me a better understanding on how it can be to work on an international level in a big company. The challenges faced in this project has been to understand who the users and stakeholders are and if there is a real need to track dirt in a digital way.", Joakim concludes.
From the perspective of the industrial sponsor, the ME310 project offers great value both with a fresh eye at the audacious project prompt and also into the design thinking approach that the students apply on the challenge.
"Volvo's partnership with ME310 has been a great way for us to engage with Academia on a global level. The program brings an innovative design thinking approach, without any bias or preconceived notions in the space. Over the course of the school year, the students at both Stanford and BTH were able to take the challenge issued by Volvo and formulate a solution through collaborative work, needfinding, prototyping, and other activities.", says Maggie Oren, the project's corporate liaison and Community Manager at Hub335 Volvo Group Innovation Lab in Mountain View, CA.
"I would like to highlight the fact that BTH and Stanford went beyond the User research and developed a physical beacon and a digital application that interfaces with the end users. In my view, innovation is not just about ideas and research, but execution is paramount and I liked how they translated the need into tangible elements. Furthermore, the lines between mechanical and digital are becoming blurred and for every physical product there is a digital companion that evolves with it, and I believe that was a good insight from the work that this team did.", says Fredy Daza from Director of Innovation Lab US – HUB335 at Volvo Group.
"Another interesting year of our long-lasting collaboration within the ME310 program has come to an end. Through this collaboration, we at Volvo continue to learn about our customers, our offers, and our organization every time. The questions raised by the students help them understand their challenge but also help us understand the outside perception of our company and our products and offerings. During the most recent cycle, the effects of the global coronavirus pandemic put an additional challenge to the whole team and to the challenge we provided. The team had to use traditional design thinking methods and complement them with online interviews, workshops, and creativity sessions to collect information, generate ideas, and create prototypes. Especially the academic supervision, support, and guidance helped shape a solid engineering solution at the end of the collaboration period. From a company perspective, maybe not the final product itself but many findings as well as concepts and ideas can and will be taken further internally to develop valuable solutions for our customers.", says Martin Frank, corporate liaison at Volvo Construction Equipment.
"This year's project has been particularly interesting and challenging, given the restrictions imposed on both travels and access to campus facilities, due to the Coronavirus pandemic. For the first time the two distributed teams was unable to meet in person at any point during the year, making this the first truly virtual project. As interesting as it is to follow their progress, it is also a challenge to build a feeling of one cohesive unit that trusts one another through all the ups and downs that a project of this uncertainty, ambiguity and complexity brings. It is therefore impressive to see that the students were able to present a compelling story about digital dirt, end-to-end in their final presentation on EXPE", says Christian Johansson Askling, project leader from the BTH side.
"By going outside the traditional Volvo ecosystem, we gain value through innovative solutions. Overall the students were incredibly creative with their ideations, and worked hard to bring a viable solution that Volvo could utilize on a construction site in the near future.", Maggie concludes.
Previous projects and info
The ME310 course at Stanford University is a three-quarter global design course starting in October and finishing at the EXPE event in June. The course features ten corporate-sponsored projects that all have global partner universities from around the world. For the last four years, mechanical engineering at BTH have been the only Swedish participants. Sponsors include major global brands, such as Volvo Group, the Volkswagen Group, Renault, and SAP to name a few.
The curriculum for the course is Design Thinking, depicting an entrepreneurial approach to design with much emphasis on prototyping as an approach to open-ended ill-defined problems where the students make extensive needfinding to define the problems. This is the same as the core curriculum for the mechanical engineering programme at BTH, which means that our students are somewhat familiar with the approach to design that is practiced.
"ME310 Global Design Innovation and the Design Thinking approach is proving itself to be a valuable experience for both students and partners. For BTH students to be able to collaborate "in real life" with one of our research partners, and also with prestigious Stanford University, is simply a great experience. Challenging, but also rewarding", says Professor Tobias Larsson of BTH Mechanical Engineering.
For more information about the ME310-project, including previous years' projects, and PDRL's Stanford University collaboration, see the pages listed below;