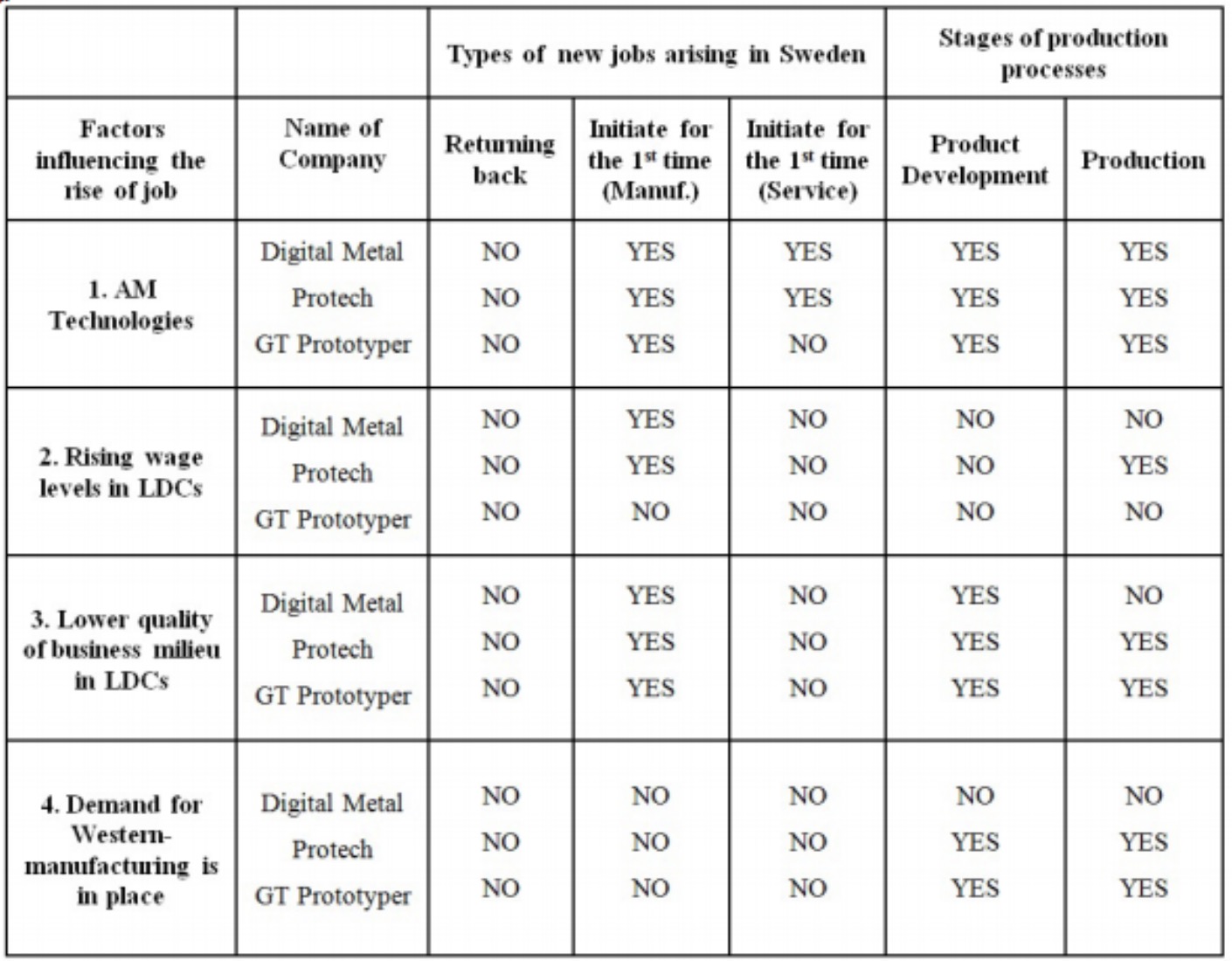 The Role of Additive Manufacturing Technology in job creation: an exploratory case study of suppliers of Additive Manufacturing in Sweden
Research paper published 12th CIRP Global Conference on Sustainable Manufacturing – Emerging Potentials, September 22nd-24th, 2014, Johor Bahru, Malaysia.
Abstract
This paper investigates how Additive Manufacturing (AM) technologies, as a process innovation, may contribute to a job creation. Further, the various mechanisms in which AM may contribute to an increase in job creation as well as the types of jobs are analyzed. The analysis also goes beyond AM technologies and incorporates other non-technological factors which foster job creation, i.e. higher wages in BRIC countries, lower quality in BRIC countries, and a rising demand for western-made products. The analysis is based on a case study and the data collected was through interviews with three prominent actors within the AM technologies field in Sweden: technology developers, leading suppliers and users. The main findings indicate that AM (i) contributes to job creation in both the manufacturing sector and in the service sector, (ii) does not bring back mass production jobs from emerging economies such as BRIC, (iii) contributes to job creation in product development stages (e.g. rapid prototyping), and (iv) contributes to job creation in production stages of low-volume batches mainly of complex products. The findings also suggest there are barriers for full exploitation of AM in several areas, including education systems.
Keywords
Additive Manufacturing Technologies, job creation, 3D printing, exploratory case study, Sweden
Reference
Download paper
Tag cloud of paper