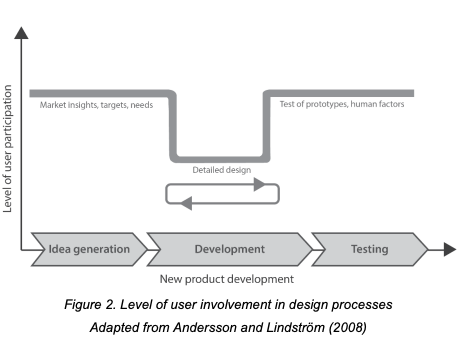 User involvement in pharmaceutical packaging design -A case study
ABSTRACT
Different levels of user involvement in product design range from understanding user needs to codesigning with users. Previous research shows older patients face difficulties to handle the medication packaging. Yet the participation of older patients in pharmaceutical packaging design is underexplored. The purpose of this study is to explore the role of older patients in the design and development of pharmaceutical packaging. Two empirical examples of one drug manufacturer and one pharmaceutical packaging supplier build one case study. The findings reveal new pharmaceutical packaging development starts with market research about patients' populations. The packaging development is then led internally or with external partners. Later, patients test the packages concepts developed. These findings go in line with previous research about the involvement of users in industries with a high technology orientation. This study is aligned with the about limited resources in healthcare and contributes with a conceptual framework of user involvement, a useful tool for managers and developers to benchmark their design process.
KEYWORDS
Case study, Design process, Older patients, Participatory design, Pharmaceutical packaging design
CITATION
Lorenzini, G. C., A. Olsson, A. Larsson, (2017), User involvement in pharmaceutical packaging design – A case study, Proceedings of the International Conference on Engineering Design, ICED / [ed] Kokkolaras M.,Fadel G.,Maier A.M.,Oehmen J.,Skec S.,Kim H.,Van der Loos M.,Salustri F., The Design Society, 2017, Vol. 8, no DS87-8, p. 41-50, article id DS87-8
Conference on Engineering Design ( ICED17), 21st-25th August, Vancouver, Canada.
DOWNLOAD
http://urn.kb.se/resolve?urn=urn:nbn:se:bth-15310