Summer interns 2017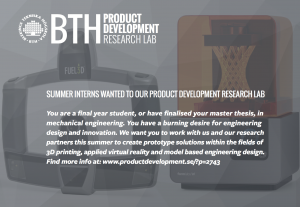 Having summer interns is a way for us to see you in work with live projects, and for you to demonstrate your skills. We also use this as a recruitment base for PhD candidates at the Department of Mechanical Engineering.
You will be working with assignments that are close to our research, where we have identified that a sprint would benefit the research. We run these summer projects as sprints using Lean Startup methodology, where the goal is to present a Minimum Viable Prototype (MVP).
Typically we're looking towards working with Product Development, Design Automation. Data Driven Design, Simulation Driven Design and Value Driven Engineering, and applications are oriented towards our research with partners like TetraPak, Volvo CE, Volvo Cars, GKN Aerospace etc., and technologies like Virtual Reality, Augmented Reality, and Simulation etc will be deployed to find ways into a better future.
You'll be sitting together as a team so you can share knowledge (of course following given individual project IPR) around your progress and the challenges you find, and you have access to our Makerspace with 3D printers, scanners, DIY electronics, etc. to be able to go full circle with the MVP.
We will compensate with hour-based salary.
You find more info on our research and education on this site (https://www.productdevelopment.se/),
If you feel interested in this, do apply here.
Product Development Research Lab is doing applied research within the department of mechanical engineering, and is led by Professor Tobias Larsson.