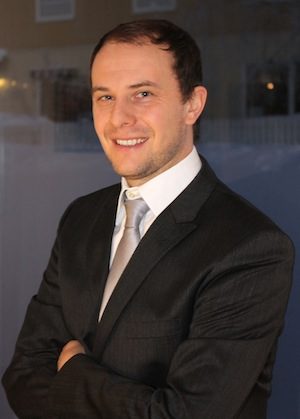 Welcome Marco Bertoni, Associate Professor
Dr Marco Bertoni is an Associate Professor (Docent) working with a focus on the conceptual design stage of complex product development in close academia/industry collaboration, joining BTH as a part of the KKS research profile "Model Driven Development and Decision Support" as of April 15. Dr Bertoni will start of his work in primarily in "UC1 – Sustainable and Value-Driven Engine Sub System Design" with GKN Aerospace Engine Systems in the lead. With an international research background from EU FP6 and FP7 aerospace projects this is a very important recruitment for BTH.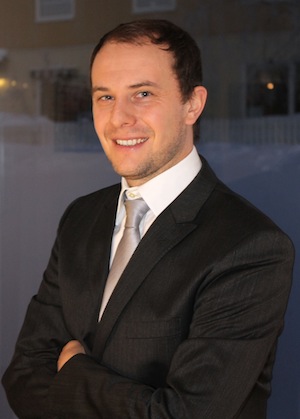 Who are you and what is your background?
My name is Marco, I am Italian, and I currently live in Luleå with my fiancé Elena. After obtaining an MSc degree in Management Engineering at the University of Bergamo in 2004, I moved to the big city and earned a PhD degree in Mechanical Engineering at Politecnico di Milano, working closely with companies in the field of product development and engineering knowledge management. Ambition, curiosity and a bit of luck brought me to Sweden in 2008, to join the Functional Product Development research group at Luleå University of Technology (at that time led by Tobias Larsson). At LTU, I became Associate Professor in Product Innovation in October 2012.
What do you do in research?
My research interest lies in the conceptual design stage of complex products and services. In my research I try to understand how knowledge from the later phases of a system lifecycle, for instance about the way a product is manufactured, operated, maintained, upgraded, dismissed or recycled, can be made available in preliminary design to support decision-making activities.
In the last few years I took part to major European FP6 and FP7 research projects in the domain of aerospace, working closely with industrial companies in the topics of value-driven design, knowledge sharing and enterprise collaboration. My work has focused on the concept of "value" to complement traditional Requirements Management process. In this area, I have investigated the engineering need for visualizing "technical performances" and "in-service" value during preliminary design, and I have developed a decision making model that use value to guide early concept selection activities. Also, together with my team at LTU, I have developed and tested both methodological and technological enablers for value visualization.
In parallel, I have worked in the domain of engineering knowledge management, exploring Web 2.0 mechanisms to facilitate the capturing and sharing of lessons learned across company functions, to enable such decision making models to be constructed and populated.
What is your experience in teaching?
I began teaching very early during my days as PhD candidate, being heavily involved in lecturing and supervising students in the "Computer Aided Design" and "Product Development" courses. At LTU, I have been responsible for the development of the course syllabuses, teaching material, assignments, and forms of evaluation for the "Product Development processes" and "Theory and methodology for engineering product development" course.
In my teaching I often use case studies to contextualize notions and to stimulate the students' ability to reflect on problems, as well as mock-ups and prototypes to visualise and test ideas, complementing more "traditional" teaching support. I often design and arrange sessions where students are asked to perform design tasks using methods and tools developed in research projects, which I believe is a useful exercise to give students a grip on real industrial issues and needs.
What do you hope to bring to the BTH community and partners?
I come to BTH with high expectations to continue the good work in the domain of Value Driven Design. What I bring to BTH is my experience with academia and industry in the domain of product innovation, my network and, more implicitly, my homeland proverbial capacity of working in entrepreneurial activity.
For more information: Product Development Research Lab Director, Professor Tobias C. Larsson, tobias.larsson@bth.se, +46(0)455-385525