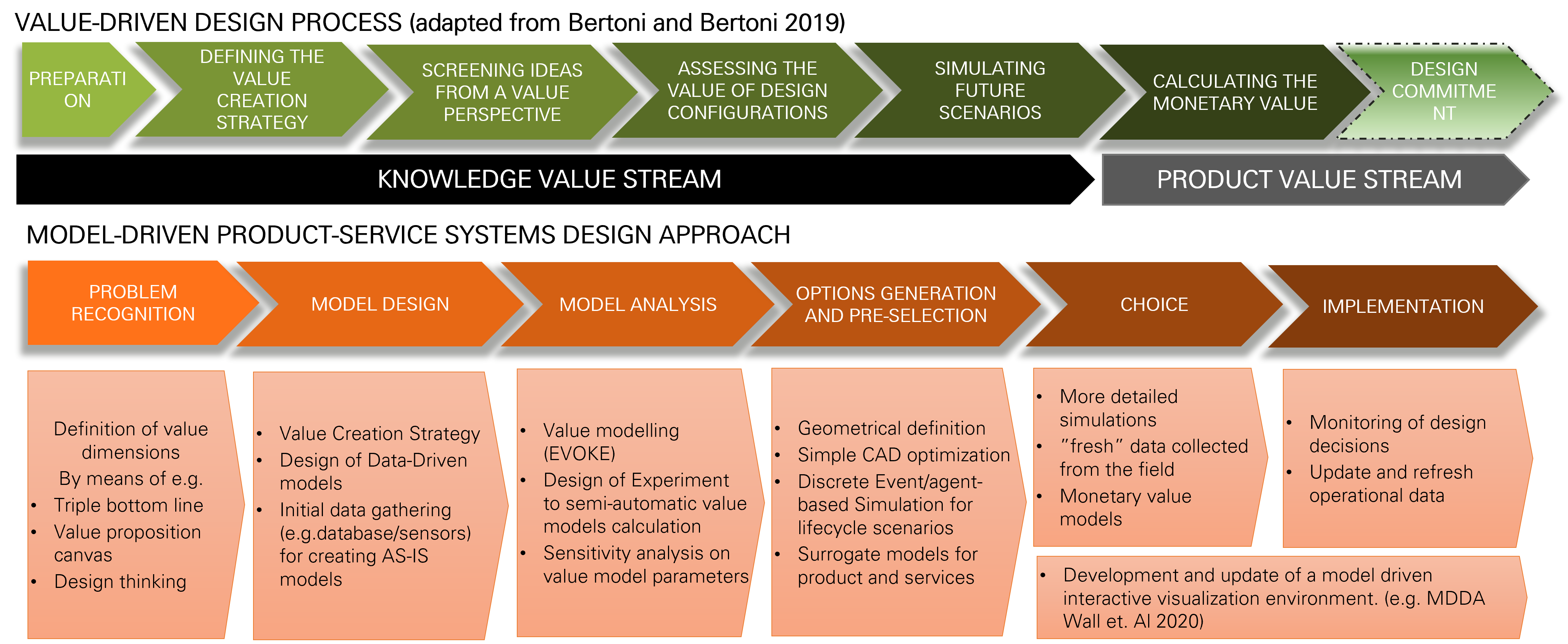 Model-Driven Product Service Systems design: the Model-Driven Development and Decision Support (MD3S) approach
Abstract:
The paper presents a Model-Driven approach for Product-Service System (PSS) Design promoting an increased digitalization of the PSS design process based on the combination of data-driven design (DDD) activities and value-driven design (VDD) methods. The approach is the results of an 8-year long research profile named (omitted for blind review) featuring the collaboration between (omitted for blind review) and nine industrial companies, in the field of PSS Design. It combines VDD models and the supporting data-driven activities in the frame of PSS design and aligns with the product value stream and the knowledge value stream in the product innovation process as described by Kennedy et al. (2008). The paper provides a high-level overview of the approach describing the different stages and activities, and provides references to external scientific contributions for more exhaustive descriptions of the research rationale and validity. The approach is meant to ultimately drive the development and implementation of a simulation environment for cross-functional and multi-disciplinary decision making in PSS, named Model-Driven Decision Arena, describe in the concluding part of the paper.
Keywords
Product-Service Systems (PSS); Data Driven Design; Model-Driven Development; Decision making; Early design phases
Citation
Bertoni, A., Larsson, T., Wall, J., & Askling, C. J. (2021). MODEL-DRIVEN PRODUCT SERVICE SYSTEMS DESIGN: THE MODEL-DRIVEN DEVELOPMENT AND DECISION SUPPORT (MD3S) APPROACH. Proceedings of the Design Society, 1, 2137-2146.
Download (open access)
MODEL-DRIVEN PRODUCT SERVICE SYSTEMS DESIGN: THE MODEL-DRIVEN DEVELOPMENT AND DECISION SUPPORT (MD3S) APPROACH | Proceedings of the Design Society | Cambridge Core