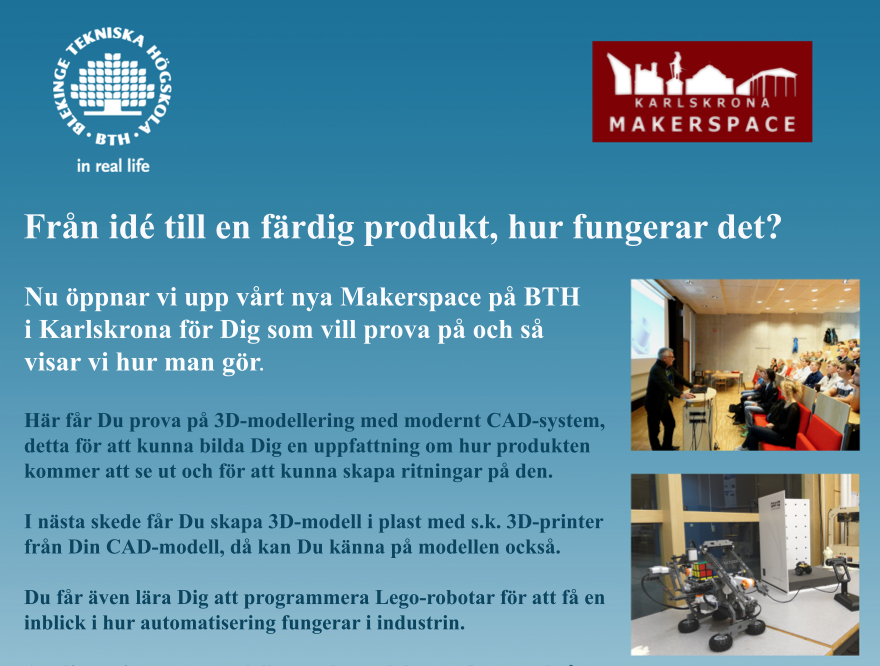 Makerspace Youth | 2013

Makerspace Youth is a project aiming at enhancing the skills and knowledge of younger unemployed persons to make them; more attractive to the market; find interest in technology; try and work with new technologies.
Innovationsförmåga och entreprenöriell verksamhet pekas ut som vägen ut ur en global konkurrenssituation där låglöneländer attraherat industrijobb och produktionsverksamhet under senaste decenniet. För Sverige (ca 1700 mdr i export 2011, varav 1400 mdr relaterat till produktförsäljning) är det kännbart med minskad verksamhet i traditionella industrisektorn. Detta tillsammans med regionala demografiska utmaningar i Blekinge där unga är speciellt utsatta gör det intressant att satsa på att skapa tillväxt i den intellektuella skapandeprocessen som leder fram till tillväxt via nya produktvärden (och även tjänstevärden). Detta projekt syftar till att skapa en mötesplats mellan olika kompetensområden (IT, telekom, tillverkande industri, tjänsteföretag, akademi) för att stimulera till uppkomsten av idéer, prototyper och även start-up-företag och intraprenörskapsprojekt (nya verksamheter inom existerande bolag). I denna mötesplats etableras en arena där yngre och ej på marknaden etabledare personer ges chansen att pröva på möjligheter med ny teknik och metoder (3D-printing, arduino, Lego Mindstorm etc.) tillsammans med behovsägare i existerande konstellationer (företag och entreprenörer).
BTH project Leader: Prof Tobias Larsson
Staff: Prof Tobias Larsson, Babak Kianian, Jan-Anders Månsson
Time span: 2013
Funding: Region Blekinge