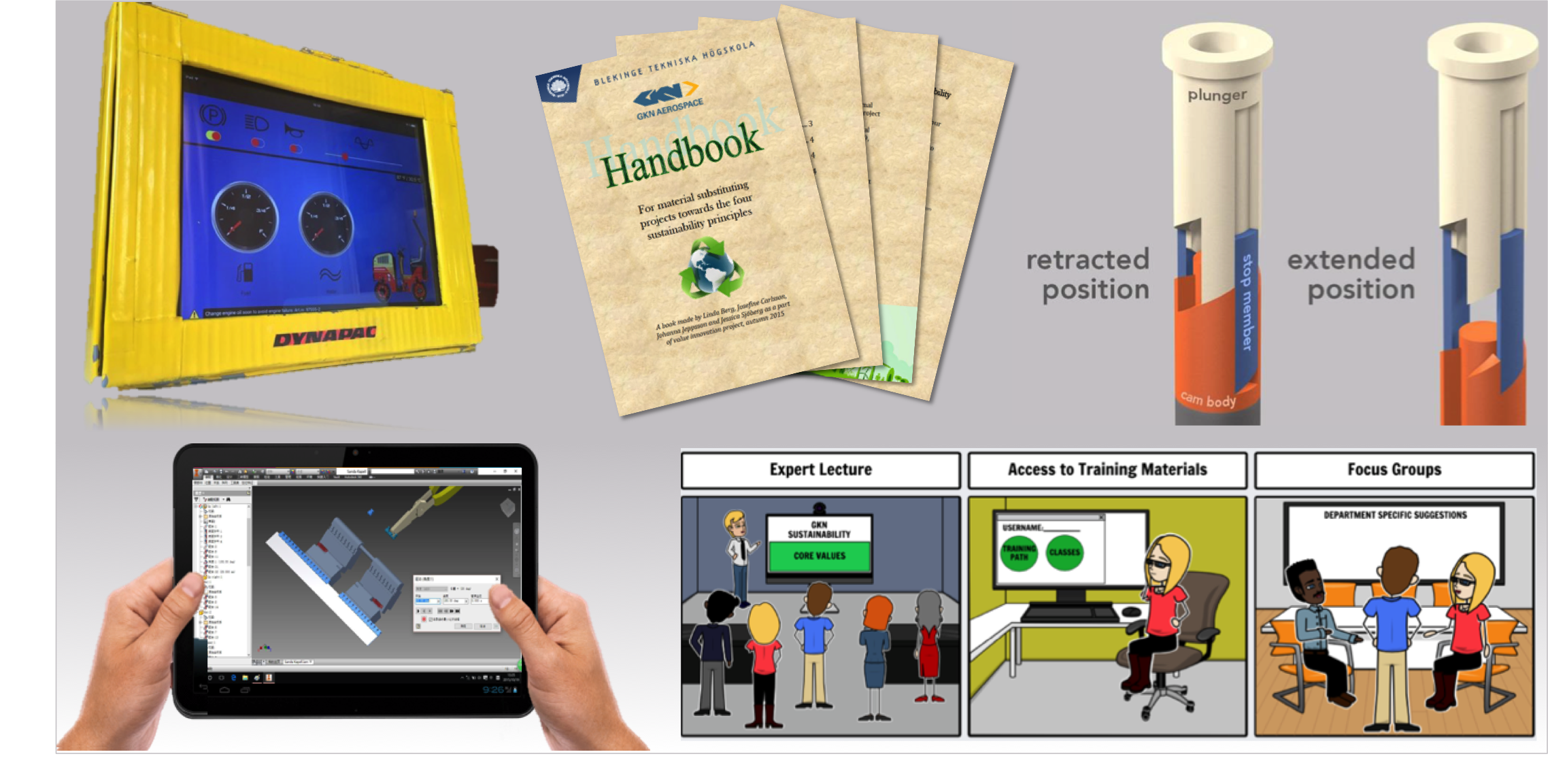 Value Innovation projects 2015
On Oct. 19th and 20th students in the MT2536 Value Innovation course had the opportunity to present the results of their real-life projects, conducted in collaboration with industrial partners and organizations.
All projects have the objective to develop innovative products/services able to create value for their customers and users, while at the same time reducing costs and the need for resources. The course is shaped on the Value Model book (authored by Per Lindstedt and Jan Burenius) and follows 4 main steps:
Understanding value: customer tier analysis, personas, journey maps, needfinding, and other techniques are initially used to frame the problem statement, benchmark the competitors and analyse latent customer needs.
Creating value: a mix of brainstorming techniques and systematic inventive thinking enable the teams to diverge and explore the design space in search for value-adding solutions.
Simulating value: qualitative and quantitative methods are used to select the most promising concepts on the basis of their monetary and "soft" values.
Communicating value: prototyping activities bring solutions to life, showing the main selling points of an idea.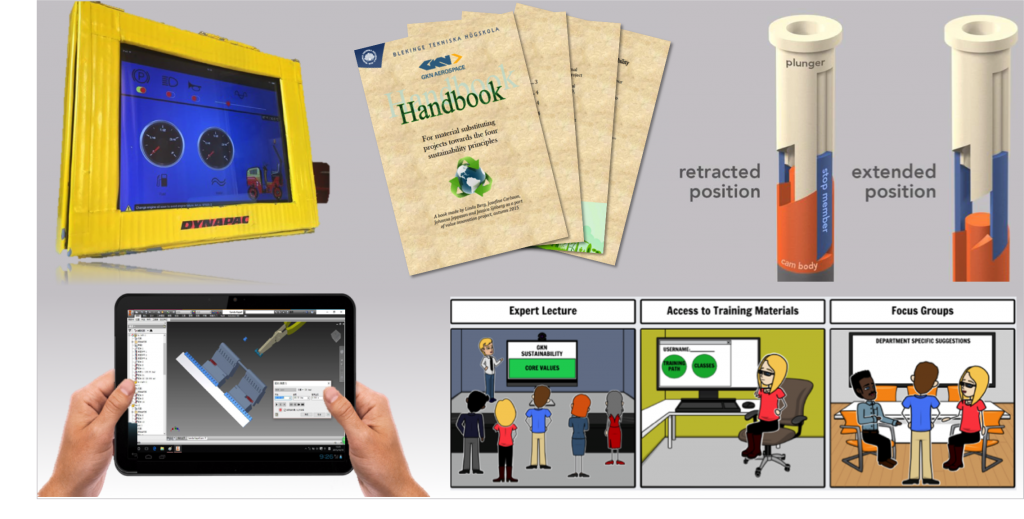 The 2015 edition of MT2536 involved 35 students and featured 9 projects in collaboration with 5 companies.
GKN Aerospace Engine Systems (major first tier supplier and developer of engine structures and components)
Team #1: Alexander Aniol, Ryan Ruvald, Yasmeen Jaghbeer, Yvonne Motyka
The problem: how to raise employees' engagement in sustainability training initiatives?
The result: a customized sustainability-training programme for managers, engineers and production personnel, blending passive and active training and featuring physical interactions and learning in virtual environments.
Team #2: Linda Berg, Josefine Karlsson, Johanna Jeppsson, Jessica Sjöberg
The problem: how raise awareness on sustainability dealing with early stage design decisions?
The result: A sustainability handbook complemented by a sustainability assessment matrix for material selection.
Team #3: Annie Fredin, Erica Hammar, Emmelie Pojkas
The problem: how to improve logistics operations with regards to the shipping of spare parts to foreign countries?
The result: a process and best practices that optimize the handling of returns from Norway and that streamlines custom routine controls.
Team #4: Niclas Andersson, Marcus Elsberg, Eric Rosenström, Henrik Åkensson.
The problem: how to evolve GKN business model by integrating open innovation and sustainability thinking?
The result: a cooperation model for facilitating expertise sharing across organizational borders.
Avalon Innovation (offers solutions and expertise in business, system and product innovation)
Team #5: Tobias Bengtsson, Axel Dahl, Max Nilsson, Oscar Sjöberg
The problem: how to develop a multi-use device for home care injections?
The result: a list of requirements and an early prototype for the device, including storage and connectivity capabilities
Sanda Kapell (a Sturkö-based company active in the boat covers/pads business)
Team #6: Andreas Persson, Sung Yungfeng, Iman Baktash, Ola Svensson
The problem: how to replace broken zipper teeth for boat covers?
The result: a clam platform to facilitate insertion and extraction of broken teeth. The solution was modeled and simulated in a CAD environment, and a physical prototype realized using 3D printing techniques.
AllHall Hölmsjö (managing a 1800 sqm sport and entertainment arena located in Holmsjö)
Team #7: Emmi Karlsson, Arjeta Suljeva, Yonghao Yang, Xin Yi
The problem: how can the arena value proposition be improved to attract customers?
The result: a proposal including three complementary packages for wedding events and live music concerts.
Atlas Copco – Dynapac (a multinational developer of road construction equipment)
Team #8: Johan Eeelde Koivisto, Johannes Falk, Christofer Hallberg
The problem: how to improve the value proposition of small asphalt rollers?
The results: an application for Apple's IPad than mimics an innovative interface for the dashboard of small asphalt compactors.
Team #9: Babak Nemat, Saeid Taghavi, Muhammad Usman
The problem: how to improve comfort for small asphalt rollers operators?
The results: a CAD prototype for a noise absorbing system able to mitigate sound waves at critical frequencies.
If you want to know more on the projects or join with a project in our courses, contact Marco Bertoni.